Makeup is not only an adornment of every face, it is an art in which we can fulfill ourselves artistically: discover new combinations of colors, new techniques that make us feel more beautiful in our eyes. Thanks to it we can hide imperfections and emphasize the advantages of our beauty. There are many types of makeup: wedding, artistic, photo shoot, showcase, fashion makeup and many others. Two of them can be considered as basic and most popular – evening and day makeup.
Light and strong makeup – what is the difference?
Separating day and evening makeup is very important for our appearance.
– During the day there must be a gentle makeup on our face to hide the imperfections. Daily makeup should be characterized primarily by minimalism. Strongly marked eyes, eyebrows and intense lip color in many situations may simply be inappropriate.
– Strong makeup will be ideal in the evening, when you need to emphasize what you see in natural light during the day. Then, as much as possible, you'll need to highlight your eyes or an intense, shiny color on your lips.
Daily make-up
Day makeup, as the name suggests, can be done every day, for work or school. It fits every hairstyle, outfit and occasion. It makes the face look fresh, natural, emphasizes the advantages – lips, eyes and cheekbones. For daytime make-up, a gentle foundation should be used, matching the type and color of our skin. In the case of oily skins, opaque matting primers will work best, and in the case of dry skins – moisturizing primers.  The concealer, with which we retouch the shadows under the eyes can not be strongly opaque, otherwise we will make a mask effect on the face. A separate, more opaque concealer covers imperfections.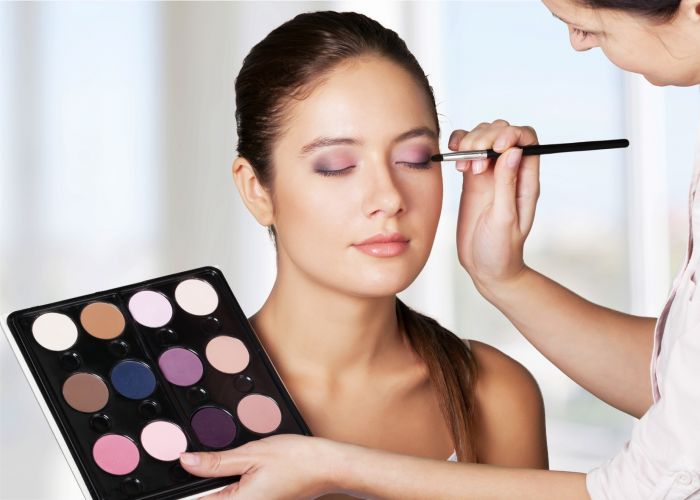 Bronzer and pink will help to emphasize cheekbones. The colors must be extinguished and adjusted to the type of beauty. Eyelashes can be emphasized with mascara, not necessarily black. Blondes can easily reach for gray and brown colors.  Eyebrows should be gently marked with gel or crayon.
Gentle day make-up step by step
– In daytime make-up we should take care of the flawlessness of our skin. Daylight highlights all visible imperfections – acne, dilated vessels, discoloration and redness.
– The most important product in daytime make-up is the foundation.  Its task is to unify the skin tone.
– If we have a problem with visible shadows under the eyes, it is worth having an appropriate concealer with covering and illuminating properties. The best way to do this is to have a concealer with a delicate yellow tint.
– When applying daily make-up, dark eye shadows, thick lines and bright lipsticks should be avoided. It is enough to paint your lashes with mascara alone.
-The contouring is mainly focused on the cheeks. Gently mark the temples with a highlighter.
-This type of makeup does not need to be fixed with mist or spray, it can be gently finished with a transparent powder.
Evening makeup
Evening makeup differs from daily makeup mainly in terms of colors and the number of products applied. A common, classic element of evening makeup is "Cat eye" and Smokey – smoky eyelid makeup. Most often made in dark colors of brown, black, sometimes even cherries and burgundy. Smokey eyes can be varied by adding glitter, combining several colors or artificial eyelashes with crystals. In this version of the makeup you can more strongly mark cheekbones, mandible and forehead and nose. We will use a contouring palette for this. We apply the Bronzer under the cheekbones, blusher on the cheekbones, highlighter on the tops of the cheekbones, temples, nose.  Cupid's arch, over the eyebrows and on the chin.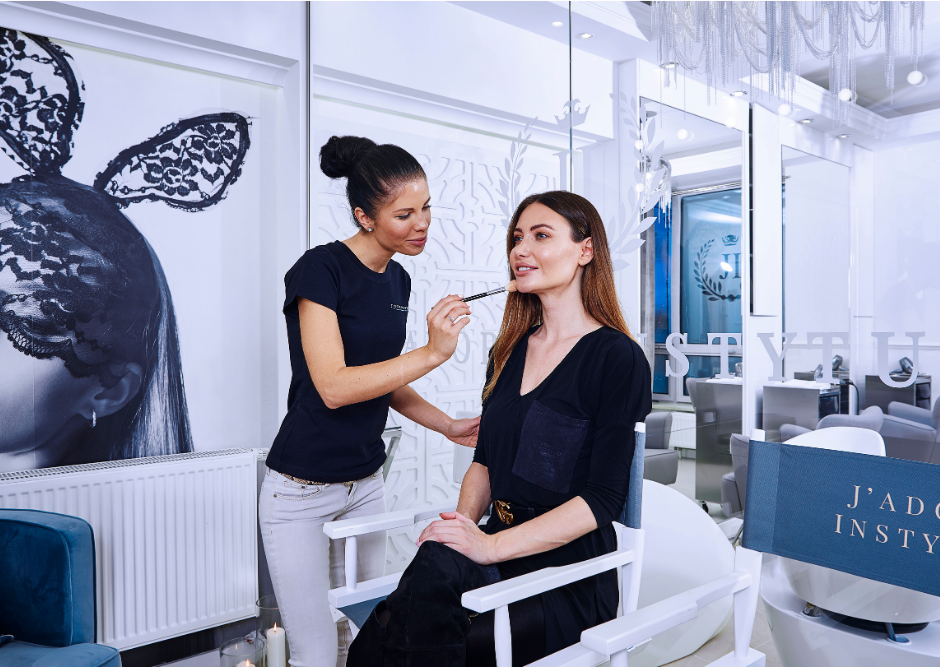 Step by step evening make-up
– Evening makeup allows us to do much more than daytime makeup. However, the colors must be much more thought-out. We cannot combine a cat's eye in cold gray colors with lips in chocolate color.
– There should also be an appropriate foundation on our face. It must be a more pigmented product than with daytime make-up. Under such a foundation it is necessary to use a base, selected according to the skin type, and a primer.
– In contrast to day make-up, in the evening, you should take care of clear contouring of your face with a bronzer, pink and highlighter. You will need a camouflage palette and an orange crayon to cover the bruising under the eyes, post-inflammatory or sunny discoloration. With artificial lighting, all imperfections, wrinkles and shadows become more visible. This is what you have to reckon with and use more opaque products. It is also worth to have a base for shadows and a lip primer in the beautician – it will make even a large amount of intense colors and products on the skin will stick all night long. For pigments and glitter a special glue is necessary.
– In the evening make-up we strongly mark either eyes or lips. So if you decide on a strong "smokey eyes" makeup in black, your lips should remain natural. If you feel like a red lipstick, let's bet only on a French line and stuffed lashes.
– Evening makeup should be fixed with a special spray product.
Quick change from day to evening make-up
If we do not have a lot of time, we can quickly change from day to evening make-up. As a result You'll save a lot of time! When performing morning makeup, remember to apply a good base under the foundation and primer, which will extend the durability of the cosmetics. Before refreshing your makeup, your skin should be matted using sebum-absorbing wipes. If we don't do this, the makeup will be gone after 20 minutes. Evening makeup is mainly strong eye or lips. It is worth emphasizing the look, drawing a classic line on the upper eyelid. Possibly make an accent on the lips. In this case, you must first make the contour with crayon, and only then apply lipstick or lip gloss.  To emphasize the eye even more strongly, you can stick clumps of artificial eyelashes.