Your complexion, despite numerous efforts and attempts, is not satisfactory? Is it prone to contamination, eczema, and pores never seem to close? Do you have dilated pores, acne and eczemas? Or maybe you just feel lost among hundreds of products, treatments and treatments available on the market? If so, this short but informative guide is made just for you. Say goodbye to problematic skin and money thrown into the mud for ineffective, poor quality products. Say goodbye to smooth, acne-free skin and satisfying care that meets your expectations. Fight with extended pores of acne eczema.
We have prepared for you several recipes for healthy, luminous skin, tailored to your needs. Don't be frightened by the multitude of treatments and products that we will present to you any time! We believe that you will choose the methods ideal for you – commensurate with your lifestyle, time and finances.
Extended pores, acne, eczema – recommended methods
The recommended method to get rid of unwanted acne changes is, of course, appropriate skin peeling. To properly cleanse the skin of dead epidermis, we suggest using chemical peelings. In these special tasks, Mediderma and Dermaquest scrubs recommended by our clinic are excellent. We distinguish between the salicylic peeling by Mediderma called salpeelic, Ferulic peeling by Mediderma, pyruvic peeling by Mediderma and pumpkin peeling by Dermaquest, as well as azelaine peeling.  A wide range of products makes it easy to match a specific peeling to your problems.
After Mediderma and Dermaquest peelings, the skin becomes brighter, free of discoloration, more taut, moisturized and refreshed. The sebaceous secretion is reduced. However, these treatments are not recommended for pregnant women. People suffering from herpes, as well as in case of skin damage or inflammation should not perform this treatment too.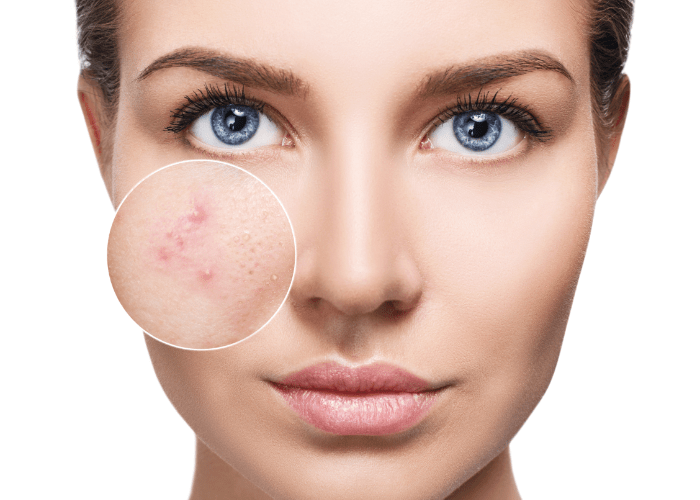 LED treatment for problematic skin
Another proposal is the hydrogen treatment combined with the Led treatment. After the treatment the skin becomes much more tense and at first glance rejuvenated (if you want to feel like eighteen again, this is an option created for you), thoroughly cleansed, and with improved and even skin tone. The treatment is especially recommended when our skin is doomed to external pollution. And also for those looking for strong cleansing and wrinkle reduction.
A remarkable treatment is corundum and diamond microdermabrasion. The former uses diamond heads, conscientiously abrasive epidermis. The skin after the treatment is significantly more tense, visibly smoother, brighter and additionally stimulated to work.
Corundum microdermabrasion, on the other hand, takes place by means of micronized corundum crystals, which are a variety of aluminum oxide, which are ejected under pressure from a nozzle. This gives the so-called sandblasting effect. Corundum microdermabrasion exfoliates the epidermis more strongly than diamond microdermabrasion, so it is important to be aware that after the treatment for a few hours there may be slight redness or irritation, which, however, is a completely natural side effect, which should not cause any concern. Persons with particularly sensitive skin may also experience similar, small and short term ailments after diamond microdermabrasion.
The basic common objectives of all these treatments are to reduce follicular keratosis and seborrhoea, kill anaerobic bacteria, lighten the skin, and narrow the hair follicle outlet commonly called "pores". Usually the treatment series is carried out every seven to twenty-one days and includes four treatments. The time interval between the series depends on which peeling the cosmetologist will use during the visit. Extended pores of acne eczema don't have to be a problem anymore.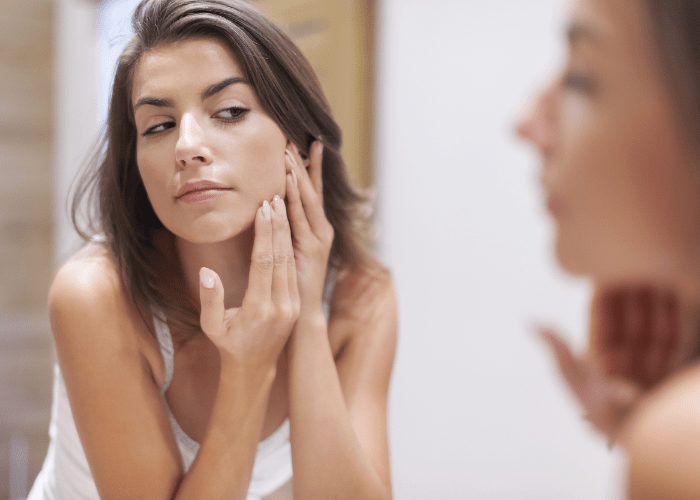 Expanded pores, acne, eczema – home care
An important element in the pursuit of clean, brightened skin is sensible home care. We usually recommend creams from manufacturers of used peelings to complement the effects caused by the treatments. What's more, after the treatments themselves, you need to take special care of your skin, so as not to lose the efforts of the cosmetologist and products. Be sure to remember about photoprotection! Minimize your exposure to UV radiation with a cream with SPF 50 filter. Such a filter will be the best for your skin, because it will protect it from unwanted radiation. By the way, you should remember to use creams with UV filter. Use it not only after treatments, but in general, every day. This is an important stage of everyday care.
We sincerely hope that one of the above possibilities to fight acne has come to you. We hope that if you implement the selected advice and ways to your life and care, you will soon see some lightening changes. Your skin will thank you for deserved rest and cleansing. Decide to have your skin treated by trusted specialists who know their trade. The treatments we offered you today can take place in our beauty salon, located in Krakow and Warsaw.
May a beautiful complexion be with you!