As the famous quote says, "Eyes are the mirror of the soul". This is one of the reasons why it is the most frequently emphasized part of the faces. There are currently many ways to emphasize the gaze. Every woman will find something for herself, regardless of whether she is a fan of subtle effect or expressive look. How to emphasize your gaze?
Eyelash extensions
One of the most popular methods of highlighting the look today is eyelash extensions. It consists in extremely precise bonding of eyelashes made of various types of material to natural eyelashes, in such a way as not to destroy your own lashes. This treatment has been loved by many women, and the lash extensions will not replace any, even high-heel mascara. Depending on what effect you want to achieve on your eyelashes, you can choose from many methods, among others: 1:1, 2:1 and more (that is volume methods), cat eye, Kim Kardashian effect. Not only fans of naturalness who would like to gently thicken their lashes but also supporters of long and dense fans will fall in love with eyelash extensions. In order to enjoy beautiful eyelashes, it is enough to supplement them with your stylist every 2 – 3 weeks.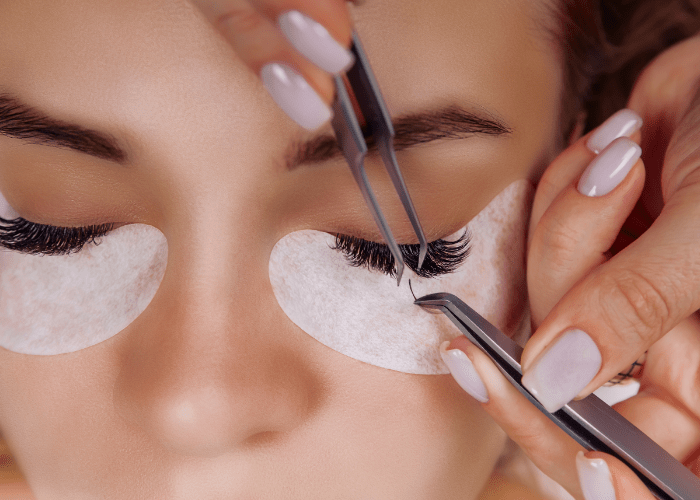 How to emphasize your gaze? – Persistent on eyelashes and lash lamination
Both of these treatments are still popular, although they are slightly different from each other. Let's start with permanent eyelashes. As the name suggests, the treatment involves permanent shaping and curling of the eyelashes with the help of specialized preparations. The treatment is performed with slightly softer preparations than in the case of lamination and takes about 30 minutes. The effect lasts on the eyelashes about two months. Eyelash lifting, in turn, is a procedure consisting of several stages – in this case, not only a preparation is applied which curls the eyelashes, but also a fixer and henna/olive shine. Because of this treatment takes a little longer, but we can enjoy its effects for up to 10 weeks. Some ladies after permanent or laminated eyelashes resign from using mascara – even without it the eyelashes are extremely expressive.
Henna and eyebrows lamination
Many women forget about their eyebrows when emphasizing their gaze, and they are like a "frame for the picture" for the eyes. Skillfully stylized eyebrows can give the face a completely different expression and also rejuvenate. Going for eyebrows styling to a professional salon, we have a choice of many methods. Beginning with the adjustment of the eyebrows, which until now was done only with tweezers, ending with the coloring of eyebrows. Eyebrows adjustment is an extremely important process, which will allow us to give them a proper, perfect shape. Special waxes are very popular today. It can remove unwanted hair from the area around the eyebrows in a very precise and fast way. Moreover, it allows you to enjoy extremely smooth skin for a long time. Thanks to this our arches will have the desired shape even longer.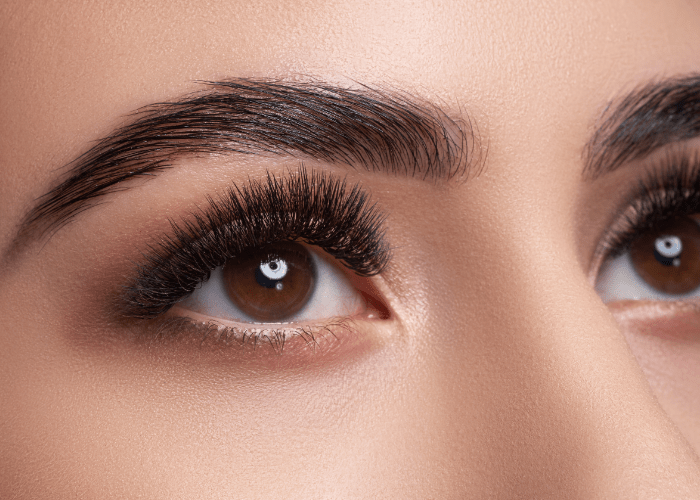 Not only classical henna is used to colour the eyebrows, which slowly gives way to "younger colleagues". Recently, a great furore has been made by henna powder. Product additionally cares for the hair and skin of the eyebrows. It is extremely easy to use and gives equally great results. Depending on the client's individual preferences, the stylist chooses the product that will be ideal for her eyebrows. Taking into account their thickness, density or hair loss. The next procedure that has entered beauty salons by storm is lamination of eyebrows. Thanks to this treatment it is possible to arrange the eyebrows in the desired shape and nourish them. Eyebrows look incredibly natural, as if they were arranged with gel, and are also nourished and bold. The owners of unruly eyebrows love this treatment.
How to emphasize the look – permanent makeup of the eyebrows and eyes
Permanent make-up of eyebrows and eyes has been done in beauty parlors for many years, but still has a lot of fans. Its main advantage is durability – properly made allows you to enjoy it even for two years. Afterwards, all you have to do is make an appointment with your linergist for its "dopigmentation". Currently, there are many methods of permanent makeup of eyebrows and eyes. The most popular methods of permanent eyebrows makeup are: microblading, hair or powder ombre.
The first method consists of mapping the appearance of the hair with the help of the so-called pen. This pen precisely comb and arrange the hairs. This method looks extremely natural and lasts about 12 months. The hair method, in turn, consists in mapping the appearance of eyebrow curves and hairs. It is done with the use of a razor and disposable needles. It similarly to the previous method, are used to introduce pigment under the skin. This method is slightly more durable – its effects last up to 3 years.
The powder ombre method, in turn, is the most delicate and subtle method of eyebrow pigmentation.
Eyebrows are lighter at the base and darker at the ends. In addition, the boundaries of the eyebrows are powder coated, which makes the effect extremely natural. Deciding on permanent eye makeup, in turn, we can choose different types of lines. From very delicate to the most fashionable nowadays, giving the impression of "smeared" shadow.
Deciding on the above mentioned treatments, you should be aware that the effect of the treatment will largely depend on the salon that you choose. Therefore, it is worth to read the opinions beforehand and choose a salon where qualified specialists work, using only the highest quality preparations and working in sterile conditions, such as professionals from J'adore Institute salons in Warsaw and Krakow.