A modern man is synonymous with a neat and fashionable man. Nowadays, a man in a beauty salon is an everyday life. It is not appropriate for men to have unattended hands or unbroken skin. Gentlemen are becoming more and more eager and bolder to take advantage of the benefits of beauty salons. Just like women, men also struggle with complexes and use modern methods of fighting the signs of aging or body shaping.
Man in the beauty salon – facial treatments
Men's skin differs significantly from women's skin and therefore has its own specific needs. Men have thicker and more oily skin than women, it has more blood vessels. The dominant testosterone in the male body is responsible for thicker  hair. Not only on the face, but on the whole body. All these features can cause skin problems, which are the cause of discomfort and determine men to use the services of beauty salons.
In our salon men most often use treatments that guarantee them care, healthy and attractive appearance. The basis for maintaining a neat appearance is the proper condition of the skin. Blackheads, enlarged pores make the skin look gray and tired. The ideal solution for such problems are facial cleansing treatments. A qualified beautician selects appropriate cosmetics to the condition of the skin and its problems. In addition, many men use eyebrows adjustment, which gives them a more noble look.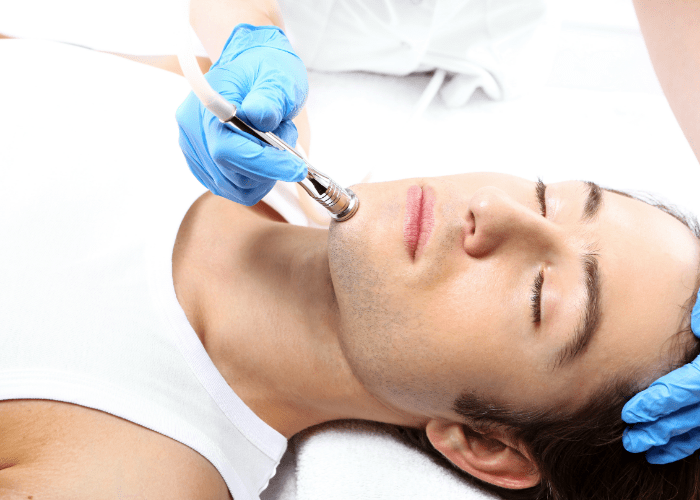 The man in the beauty salon
Men who have vascular complexion and face the problem of dilated blood vessels decide to have a closure procedure. Using the dye-vl head, which uses a series of three filters, concentrating light in a narrower range, the blood vessels are closed and discoloration is reduced. The head is considered to be the most modern and advanced technology bringing spectacular results. This method is completely safe, painless and does not require a period of convalescence.
Gentlemen who are struggling with the problem of skin aging confirm that Clear lift rejuvenating treatment visibly and immediately improves the appearance of the skin. This is a non-invasive treatment that makes wrinkles smooth, tight and radiant skin. Its important advantage is the lack of convalescence, additionally the treatment slows down the aging process.
Recommended and popular treatment is micro-needle mesotherapy, which used together with properly adjusted ampoules brings many measurable benefits to the skin. This treatment is used by men whose skin is dry, has lost its firmness or there are scars, discolorations and imperfections visible on it.
Men more and more often decide on more invasive treatments, e.g. Plasme IQ– eyelid lifting. A micro-beam of plasma works only within the epidermis, not damaging the skin. The effects after the treatment are visible immediately – it rejuvenates the look. Getting rid of the first signs of aging in the eye area positively affects the image.
For every man who wants to take care of his appearance we recommend treatment procedures of Mediderma and Dermaquest brands. Before each treatment, we consult with you during which the needs of your skin are determined. The cosmetologist selects a set of cosmetics suitable for the client. These procedures moisturize the skin, even out the color, reduce excess sebum and close the dilated pores.
The man in the beauty salon – Attractive and slender body
More and more often men want to take care of their bodies. In our salon they willingly use treatments supporting the fight for a slim figure. One of them is cryolipolysis, which consists in cooling the fatty tissue in order to cause its breakdown. It is ideal for getting rid of excess body fat from the abdomen and lower back. Another popular treatment is redustrial, which works on the whole body. For this purpose, a free alternating magnetic field is used, which evenly affects the adipose tissue both under the skin and embedded on internal organs.
An attractive body is a smooth body. Excessive hair is nowadays a pain not only for women but also for men. In order to get rid of it we offer our clients depilation treatments. Laser or waxing is a frequent treatment that we perform for men who want to get rid of hair. Laser hair removal after several treatments causes the disappearance of all unwanted hair, while waxing performed regularly contributes to hair weakening and thinning.
Appearance alone is not everything, it is also important to relax and unwind. For this purpose, gentlemen very willingly use our massage offer. Carefully selected become an essential element in the fight against stress and mood drop. It is said that properly performed procedure is a cure for body and soul. Massages and rituals help to reduce muscle tension, improve mood, reduce stress.
Hands and feet
Well maintained hands are the hallmark of every well-groomed man. Well groomed feet are comfort and convenience. We offer manicure and pedicure treatments for all men. At J`adore Institute every man will feel comfortable, we provide peace of mind and intimacy during the treatments. Let us remember! A man in a beauty salon is an everyday life these days!