How to maintain a beautiful and healthy tan regardless of the season?
We associate a beautiful tan with attractiveness and a young appearance. Many people have to deal with the problem of very pale skin, which starts to bother them especially in winter. Even a light tan makes the skin look healthier and more radiant. Unfortunately, during the autumn and winter season, natural tanning is practically impossible. Many people also don't like, or because of very light skin tone and subsequent burns, don't want to tan. Exposing your skin to long sun exposure is also not healthy. But with help come tanning methods that are completely safe for your health and allow you to enjoy a beautiful tan all year long.
What is spray tanning?
Until now all women who wanted to enjoy a beautiful tan had to spend hours in the sun or use a solarium. Both of these methods, unfortunately, are not healthy – due to harmful radiation they expose to skin cancer. Spray tanning is a method that is one hundred percent safe. It consists in spraying the skin with a special dye. The tan is the result of a chemical reaction of the preparation with our epidermis. Moreover, the preparation used does not cause any allergic reactions or unsightly discolorations and additionally moisturizes the skin.
It provides a very natural effect – the specialist who performs the procedure helps.  To choose such shade of the dye that will perfectly match your complexion.  And the tan will not look artificial as it often happens to customers who use solariums. The entire procedure, including preparation, application and drying of the body, takes about 30 minutes. Treatment is performed by a qualified beautician in a properly prepared cabin. The effects persist on the skin for about 2 weeks.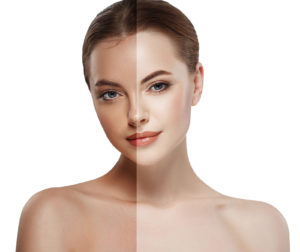 How to prepare for the treatment?
In order to enjoy a beautiful tan, you should take proper care of your body before the treatment. First of all, the day before the appointment you should epilate with a wax, epilator or razor. All you need to do is epilate the areas you usually epilate. Moreover, an extremely important step that must not be omitted is exfoliation. It is best to perform this step 24 to 12 hours before the procedure. The tan will last longest on moisturized and exfoliated skin. We can use self-made scrub (for example, with food products that we have at home such as coffee or sugar) or buy it in a cosmetic store. It is worth paying attention to the fact that it was fat-free scrub. It is also important to take special care of those areas that are usually the driest – elbows, knees and ankles.
You should also remember to avoid washing products with alkaline pH.
Products containing oils and moisturizing shower lotions the day before the treatment. These types of products can create a protective barrier that will prevent absorption. Of the product and the treatment effect will not be satisfactory. Immediately before the treatment you should take a shower and wash your skin (for example, with intimate hygiene lotion, which has an acidic pH) and make sure that the skin is clean and well-dried.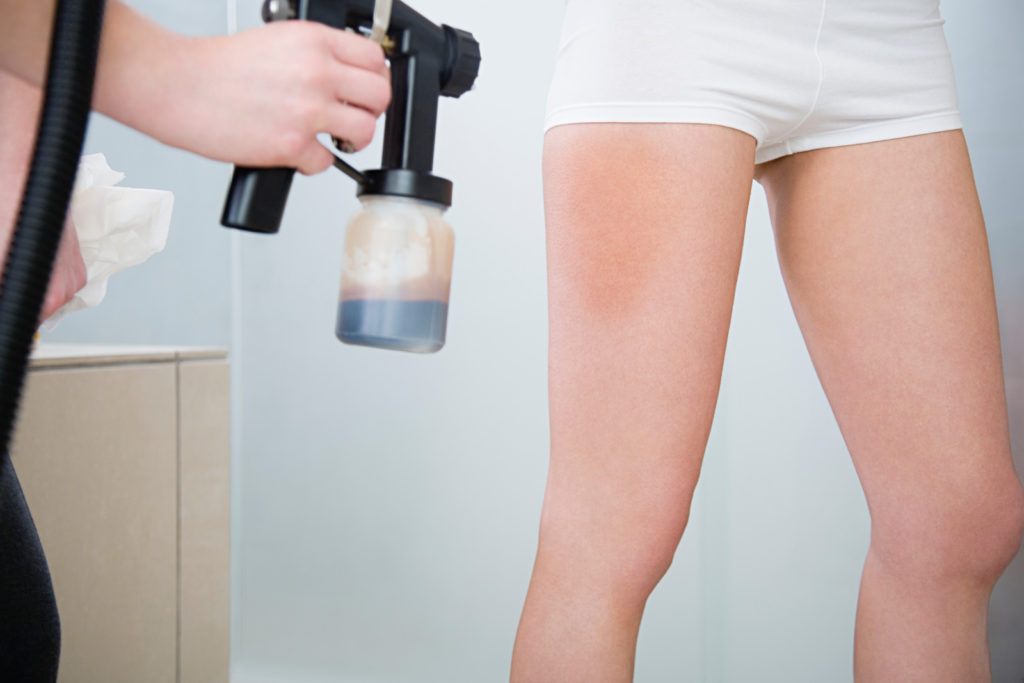 On the day of the procedure we do not use any lotions, antiperspirants, creams or other cosmetics that could hinder the absorption of the preparation. It is best to go for the treatment in dark underwear and loose clothes. This way you will avoid not only damage to your tan but also a strong dirtiness of your clothes. Every professional salon provides its clients with disposable underwear and a cap to protect their hair during the treatment.
Who is the spray tanning treatment for?
Spray tanning is a treatment that has stolen the hearts of not only women but also men. It's one hundred percent safe so even pregnant women and people with very light complexion who shouldn't expose their skin to prolonged sunlight or use solarium can do it. This treatment, because of the immediate, beautiful effect is often used before important events: parties, weddings or sports competitions. The only contraindications to perform the procedure are psoriasis, asthma, skin allergies, severe skin irritations or injuries, and rashes.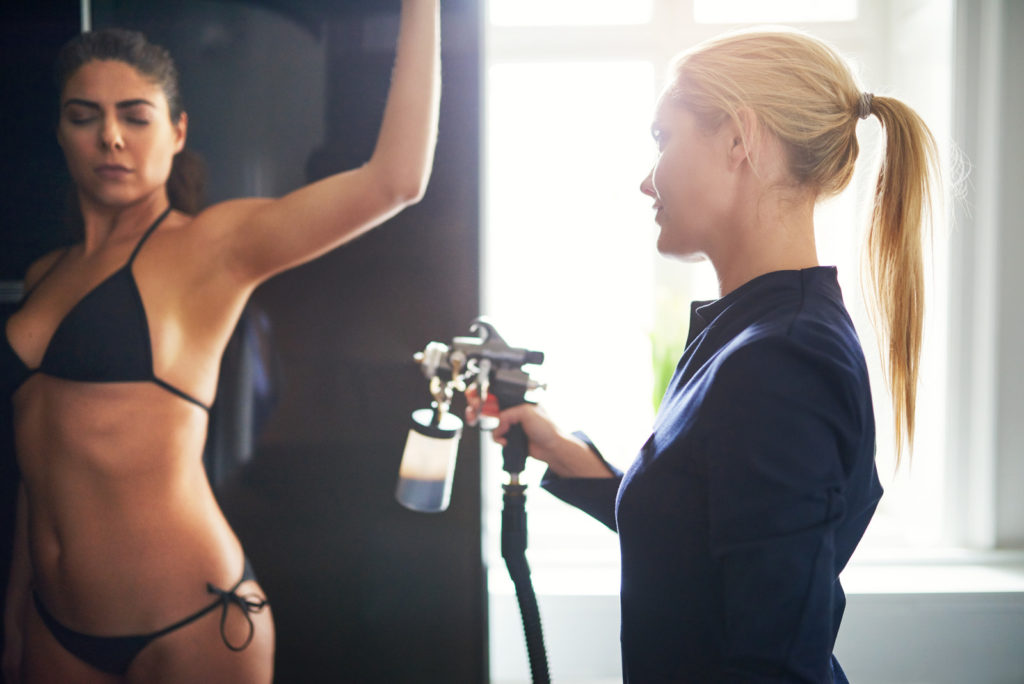 How to take care of your skin after the treatment?
First of all, the skin after the spray tanning treatment should be strongly moisturized – you can apply lotion even twice a day. The first bath should be taken about 8 hours after the treatment, not right away. For two weeks you should also refrain from peeling, long visits to the sauna or jacuzzi and long baths in chlorinated water. When drying your skin, wipe it with a towel more gently than usual. Rubbing hard can make your tan fade away much faster.
When choosing a salon where you will perform a spray tanning treatment. Pay attention to whether it is performed by people with proper training and professional products such as Sun fx. This will give you a long-lasting, beautiful, natural tan that will be a real eye-catcher.
Make an appointment at our salon and have a healthy and beautiful tan all year round. Also think about body treatments that will help you endermologie, accent or Storz Medical.