Photo-rejuvenation in Warsaw and elsewhere is a very popular method. It consists in – as the name suggests – skin rejuvenation and smoothing out wrinkles. Such treatment is performed by every specialized beauty salon, including cosmetic salon in Warsaw, J'adore Institute.
Photo-rejuvenation – what does the treatment consist in?
Photo-rejuvenation is a procedure which consists in irradiating the skin with a stream of light of low energy density. Tissues heat up and therefore the skin undergoes intensive regeneration. The light emitted by the jet penetrates the deeper layers of the skin. It is absorbed by melanin, which triggers numerous processes that accelerate the rebuilding of the epidermis.
Despite appearances, photo-rejuvenation is a new method, relatively recently used in aesthetic medicine. Nevertheless, it gained popularity almost immediately. It allows, among others, to get rid of symptoms of skin aging, eliminate discoloration and redness and smooth out wrinkles.
What are the possible effects of photorejuvenation?
Photorejuvenation, first of all, gives quick and visible results. Skin becomes younger and better nourished, full of brightness. Wrinkles, any unsightly discoloration and redness disappear, and enlarged pores become invisible.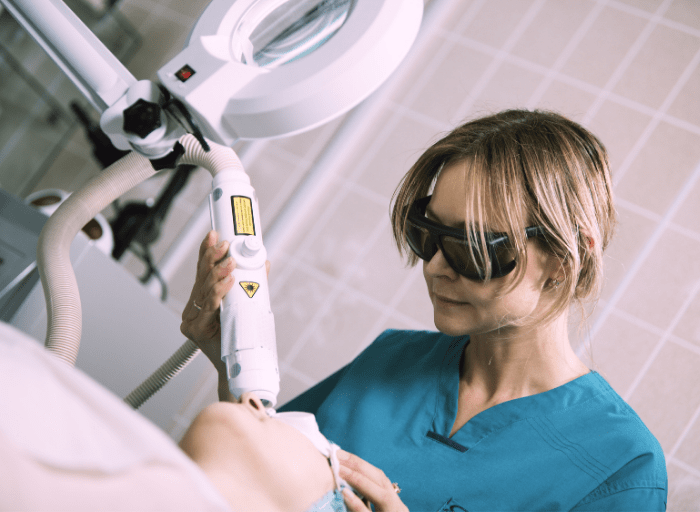 Who is photorejuvenation treatment designed for?
Contrary to appearances, photo-rejuvenation treatment is not only for older people. It is mainly chosen by young women, aged around thirty. We are talking about patients who notice signs of aging in their skin, see wrinkles, redness and the like.
The procedure is also quite popular among older people. As photo-rejuvenation in Warsaw and elsewhere is relatively cheap, it is worth going for a visit to a beauty salon for example with a friend.
Indications for treatment
Photo-rejuvenation is recommended, among others, for people who experience a decrease in collagen density. Who else? People whose skin has lost its proper firmness, elasticity and hydration. It is especially recommended for people who would like to slow down the aging process of their own skin, or are struggling with such problems as sun spots, rosacea, vascular lesions, enlarged pores, erythema and the like.
One of the indications may also be a tendency to excessive body sebum secretion in young people.
Contraindications to the treatment
Every clinic, which offers photo-rejuvenation in Warsaw as well as in other cities in Poland categorically refuse to perform the treatment in several specific cases. Before starting the treatment, it is advisable to mention to the cosmetologist any allergies or medications taken.
Among contraindications for photo-rejuvenation procedure, diabetes, active tumors and skin inflammations are mentioned. In addition, it is not recommended for women who are both pregnant and breastfeeding. If the epidermis is damaged, it should be treated first before proceeding with photorejuvenation.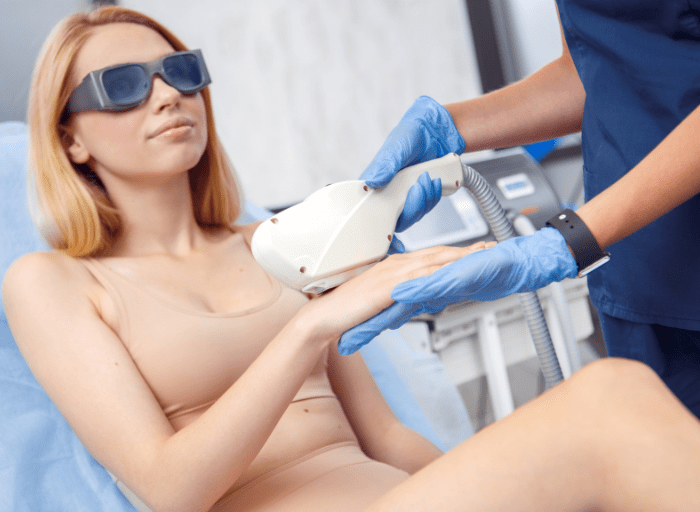 How to care for your skin after photo-rejuvenation treatment?
There are several recommendations that you should follow after the procedure. First, you should not use the sauna after the photo-rejuvenation treatment for at least a few days. You should also refrain from intense exercise and sunbathing. For better results and better protection of the skin, it is worth using strong sunscreen creams. At the same time it is recommended to refrain from using cosmetics, which have alcohol in their composition – until the skin regenerates. Alcohol can interfere with the regeneration process.
Photo-rejuvenation in Warsaw in cosmetic salon J'adore Institute is carried out by qualified and experienced in their profession people. Thanks to this, interested patients can be sure that the visit will proceed without any complications, and the effects will last for a long time. Therefore, it is worth making an appointment with a specialist and learning more about the photo-rejuvenation treatment carried out in a Warsaw beauty salon. Treatments can be booked online!