We associate special occasions not only with appropriate styling, but also with make-up, which is a perfect complement to it. Taking into account the previously planned exits, we want to look stunning on them, and certainly different than usual. However, it is worth remembering a few tips that will ensure the effective look of makeup. A natural glow is something that every person who cares about the effect of natural lightning strives for. We have gathered a few tips that will facilitate the whole process of preparing your skin for the exit. A banquet treatment in combination with appropriate care is a guarantee of success.
Knowing about the upcoming event or the evening out, it is good to take care of your skin. It will make the makeup look neat and really fresh. We must remember that dry skins or imperfections are not elements of skin texture that will be completely covered. Depending on the type of makeup, if it were to be extremely strong and dull, it could highlight the imperfections without giving us the intended effect. Home care is very important on a daily basis. There are a few steps before the planned departure, which should be kept in mind.
Homemade ways to properly prepare your skin for make-up
Products available in drugstores allow us to act on our own to exfoliate, moisturize our skin or illuminate it. Each make-up artist will recommend to the client a special skin preparation for make-up and most often one hears about face peeling. It will allow to thoroughly cleanse the skin and exfoliate dead skin. However, it is worth remembering to perform a peeling two or three days before the planned make-up. Reason? The skin may be irritated and its different types may react differently to the peeling. In order to avoid unpleasant events freshly before make-up, it is worthwhile to start such a home process a few days earlier. This will ensure proper regeneration.
On the day of make-up, you should remember about full home care, which should consist of a thorough morning routine. It should include: washing the face, its toning, application of SPF cream and day cream. The serum will also be ideal to work on the skin's brightening. In the evening, before the makeup, you can redo the skincare steps, and certainly toning and applying the cream. If we find time during the day to relax and apply the mask – even better for our skin! First of all, it is worth paying attention to moisturizing, soothing and calming masks. Rest from make-up throughout the day will also be a good solution, but it is known that everything depends on the day and lifestyle.
An effective banquet treatment in a beauty salon
We encourage you here, in addition to focusing on home care, to look around the offer of banquet treatments in beauty salons. It will be a sensational form of relaxation and rest. The comprehensive properties of the treatment will allow to achieve immediate effects. It will guarantee full and above all proper preparation of our skin.
Our offer includes several banquet treatments, which we can recommend with a clean heart before important occasions. When makeup is an important part of our overall appearance:
– geneo illuminate
– mediderma ferulac with vit. C,
– Skeyndor from vit. C,
– PQ AGE
Geneo illuminate
Starting from the first, Geneo illuminate is a treatment whose main objective is precisely to achieve the illumination, a natural glow effect that is extremely desirable in the beauty world. The treatment will cope with uneven skin tone, lack of expression and glow. If you are struggling with discolorations after excessive exposure to the sun or those that have caused hormonal problems – it is worth trying. It is a treatment that is based on the properties of the capsule, or more precisely its content. It is made up of kojic acid in combination with pearl fruit extract, carrot extract and vitamin C. The second stage of the treatment is the introduction of ultrasound care serum. This serum mainly consists of jojoba oil, argan oil, vanilla extract and horsetail.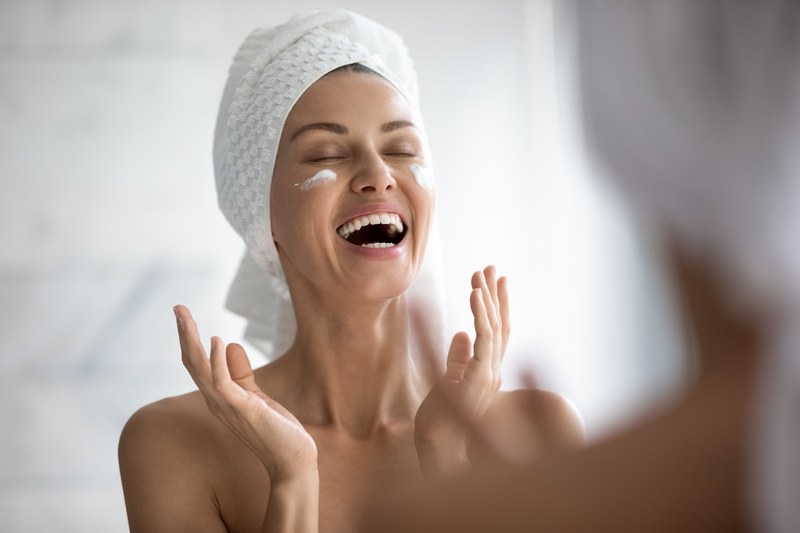 Mediderma ferulac with vit. C,
Mediderma ferulac with vitamin C is another treatment that will be perfect before the big event and it is a perfect banquet treatment. It also responds to the needs of the skin, such as fatigue, lack of glow, lightening. Products will help to regain balance and youthful appearance. To sum up it is an intensive treatment that combines 12 percent ferulic acid, white mulberry extract, hyaluric acid and vitamin C. This mixture guarantees elasticity of the skin, which will be extremely ductile and perfectly accepts evening make-up. This is a treatment that, despite the acids, can be introduced to your care all year round. You should not be afraid of skin contact with sunlight or irritation.
Skeyndor with vit C
Skeyndor with vitamin C is a procedure using a series of products from the Skeyndor brand. Products are containing different forms of vitamin C and its different concentration. This provides a comprehensive action, which will immediately give the effect of brightening the skin and its brightening. It is also a guarantee of achieving natural glow before evening make-up. Treatment starts with skin scrub so products which are used during treatment can penetrate deeper!
PQ AGE
PQ AGE is an active banquet treatment, exfoliating peeling that instantly improves the texture and overall appearance of the skin. It is a non-invasive treatment that works on a similar mesotherapy. The effects are visible already after the first treatment, but it is recommended to perform it in series at appropriate intervals.
We encourage you to familiarize yourself with the offer of our salon. We will be happy to facilitate the preparation of your skin. Our specialist will do the best to make it look most beautiful before the big exit!