There is no doubt that beautiful feet look very attractive in summer sandals or on the beach. However, if you want to have nice and, most of all, healthy look of your feet, you should take care of them properly. The most important is balanced care. All cosmetic products should be selected as carefully as possible, otherwise there can be no satisfactory results. Check what home methods for foot care we recommend!
Don't forget to moisturize properly.
Home foot care can not do without proper moisturizing. So reach for moisturizing creams and butters for feet. We can find them in every drugstore, both stationary and online. It is impossible not to notice that good quality creams can also be found in pharmacies. When choosing creams you should take into account various criteria. The most important is that the cosmetics have an action tailored to the needs of our feet skin. If it is very dry and cracked, you should pay special attention to intensive moisturizing and nourishing creams. They regenerate the skin and strengthen its natural protective barrier.
Thanks to that it will be more resistant to adverse effects of external factors. However, if our feet sweat excessively, it is worth reaching for a cream, which not only moisturizes the skin, but also reduces excessive sweating of our feet. The best solution will be to buy creams of natural compositions. Look for plant oils, as well as extracts and extracts. It would be good to apply from time to time an intensive moisturizing foot mask. You should apply a fairly thick layer of the mask, and then put on special socks, which will accelerate the absorption of the cosmetic. The procedure should be repeated systematically, at least once a week.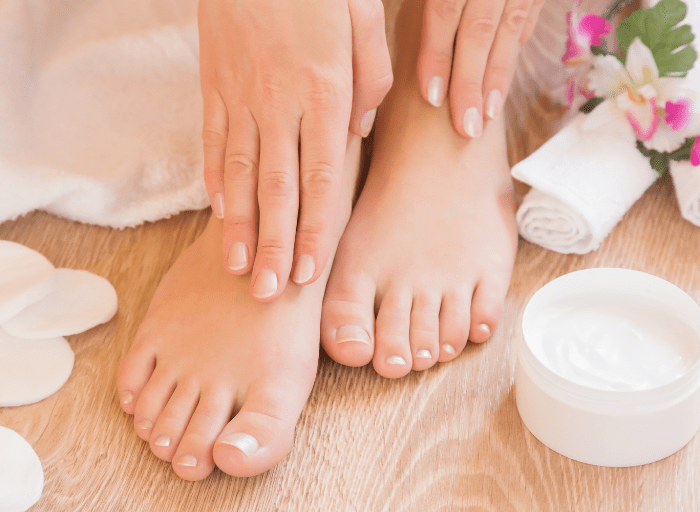 Home methods for foot care – Exfoliate dead skin regularly.
Home foot care also cannot do without exfoliating dead skin. For this purpose, you should equip yourself with a scrub. The most beneficial will work this coarse-grained. Thanks to it we will be able to get rid of keratinized epidermis. This cosmetic is particularly helpful in case of thickened heel skin. A great solution will be to buy natural scrubs. It would be perfect if they include ground nut and seed seeds. How often should you perform a scrub? Not less than once every three days. If you have really dry and calloused heels for a while it is worth doing this procedure every day. Home foot care in the form of scrubs is advisable even for people with relatively smooth feet. They should perform this procedure much less frequently. You can do it for example once a week.
What problems affecting the feet to pay attention to?
As mentioned above, home foot care is advisable if you want to keep your feet in the best possible condition. You should always be attentive and pay attention to all the problems related to the skin of the feet. The most common problem affecting our feet is of course excessive dryness and calloused skin, especially in the heel area. A very common difficulty faced by a lot of people is also excessive sweating of the skin. It causes a great deal of discomfort for people struggling with this difficult problem. Not infrequently, uneven foot coloration can also be a problem. Often the problem is also ingrown nails. It is worth noting that this problem is not only aesthetic, but also health-related. In the case of this condition it would be good to go to a professional podiatric or cosmetic surgery.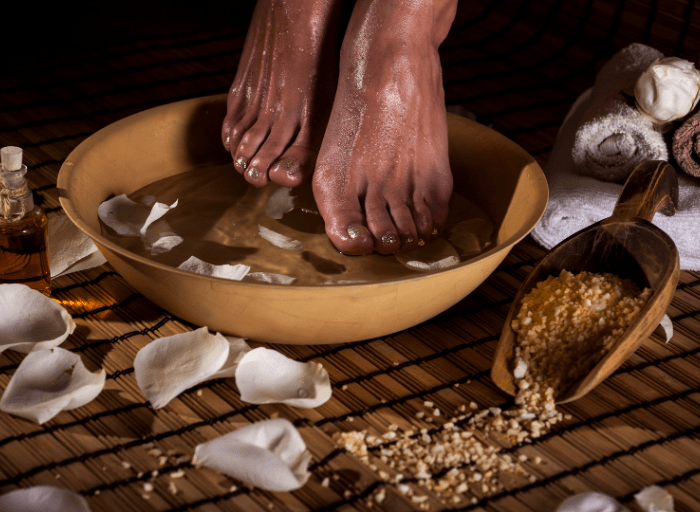 Not always home care of feet turns out to be sufficient. If you are struggling with quite serious aesthetic defects in this area, it is worth visiting a beauty salon. The largest number of professional beauty salons operate in large and rapidly developing cities. People living in the capital can visit the cosmetic salon in Warsaw J'adore Institute. In the beauty salon it will be possible to undergo specialized treatments to improve the appearance of the epidermis in the foot area. Book your treatment online today!