Wrinkles begin to appear in people over thirty years of age. Most often they are associated with the disappearance of collagen and elastin, which are a kind of scaffold for the epidermis. The first wrinkles can be seen in places where facial expressions express emotions. When they start to be very pronounced, discomfort in everyday life and a sense of shame in social contacts appear. As a consequence, it may have a strong impact on limiting social relations or finally stop enjoying life. One of the skin anomalies that cause such problems is lion wrinkle. Help can be provided here by beauty parlors offering a range of treatments to eliminate lion's wrinkle without the use of botox, as well as adequate home care.
Lion's wrinkle – treatments used in the salon of aesthetic medicine
The lion's wrinkle is associated with expression in the facial expression, and is located between the eyebrows. The methods used in aesthetic medicine salons are aimed at stimulating fibroblasts to increased production of collagen and elastin and their reconstruction. Below you will find examples of treatments that help in the fight against lion wrinkles.
Needle mesotherapy is an injectable procedure, which involves making punctures to a depth of about 2 – 3 millimeters and at distances of 5 – 10 millimeters in the area affected by wrinkles. A so-called cocktail containing nutrients, regenerating, vitamin and moisturizing ingredients is injected under the skin. The composition of such a cocktail is adjusted by the cosmetologist to the needs of the client. Most often it is a mixture of hyaluronic acid, vitamins and other natural ingredients. Before the procedure is performed, a local anesthetic is applied and it is performed every 2 weeks.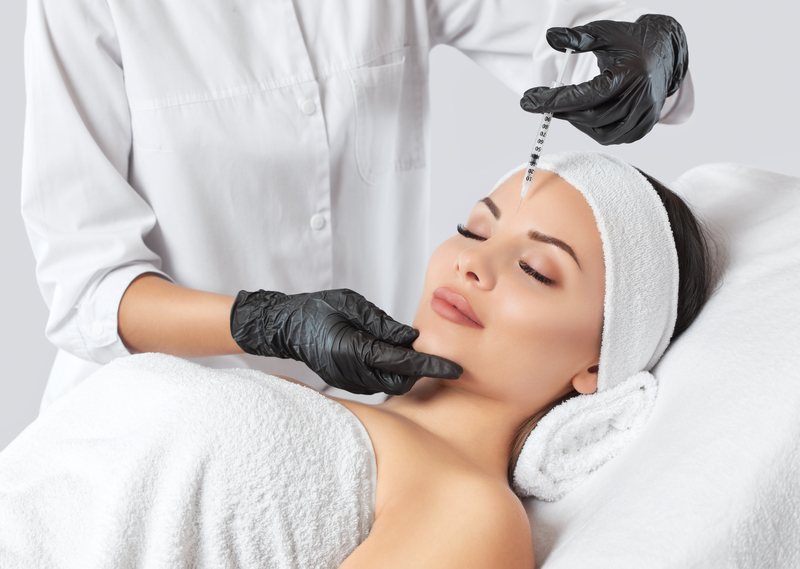 Fractional (micro-needle) mesotherapy is very similar to needle mesotherapy. This method also uses an injectable cocktail that is appropriate for the skin. It focuses on micro-puncture of specific areas very densely. In order to stimulate a strong restoration reaction and thus the production of collagen and elastin by fibroblasts. The treatment is performed every 3 weeks.
Er:YAG fractional laser. In this method the aim is to stimulate the skin to regenerate by creating micropores of 5 – 10 microns wide. They are a kind of channels that transport vitamin and nourishing substances to the epidermis. It is a very thorough treatment, perfectly and deeply aiming at the place of skin anomalies and quickly eliminating them. All thanks to a very high density of holes made in a given area. Finally, the so-called occlusal dressing is applied. It is recommended to perform 4 treatments every 4 weeks.
Retix C is a method of non-invasive fight against lion wrinkles and other skin problems.
It is a formula that consists of: retinol 5%, vitamin C 15% and antioxidants 30%. This treatment consists of applying an appropriate ampoule on clean skin and then retinol. The whole creates a kind of mask, which can be washed off at home after 6-8 hours. About 2 – 3 days after the treatment, the old epidermis peels off (which is a visible phenomenon), and after 7 days, a new one appears in its place, as a result of deep reconstruction and regeneration processes. The skin becomes taut, nourished and smoothed. 4 treatments are performed every 3 weeks. Lion wrinkle can be reduced.
Retises CT is a non-invasive treatment, similar to Retix C. However, it differs in its ingredients, namely it contains vitamin C 10%, niacinamide 5%, retinol 4% and retinyl 1%. After the application in two stages of the mixture of these substances, the retinol cream is applied, which the person undergoing the treatment washes away after 8 hours. The flaking occurs here relatively quickly – it is visible on the second day. After 4 days it ends. It is recommended to perform at least 4 Retises CT treatments every 3 weeks.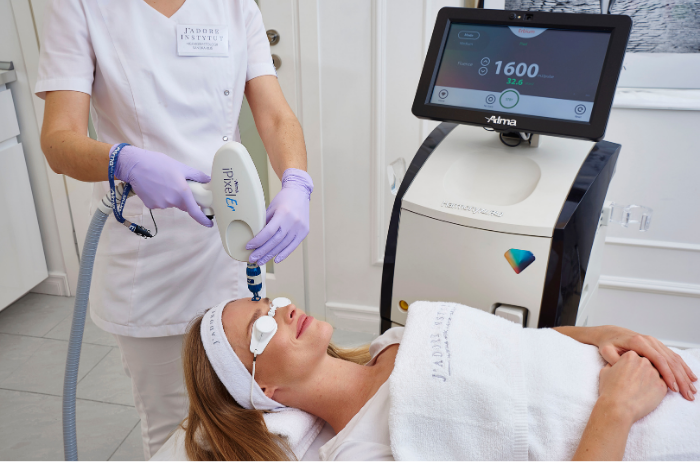 Homely ways to fight lion wrinkle
Facial massage within the lion's wrinkle consists of massaging the muscle that tightens the forehead between the eyebrows with circular movements and tightening the forehead by holding the outer corners of the eyebrows in place for several seconds. It is worth doing it every day while performing makeup removal, washing the face, applying serum, etc.. Such a routine reduces muscle tension and improves blood supply to the skin.
Facial gymnastics is called facefitness or facial yoga and may include the whole or selected parts. If we want to improve the appearance of the skin between the eyebrows with this technique, work on strengthening the muscles around the eyes. The exercise consists of a wide opening of the eyes (without lifting the eyebrows) and freezing for about 5 – 10 seconds. Then you must close your eyelids firmly without squinting and try to press them firmly. The exercise should be repeated 4 times, every day.
Retinol – vitamin A.
Due to its properties, it is a valuable substance found primarily in cosmetics for aging skin. It stimulates fibroblasts to more frequent division. Regulates keratinization (processes of exfoliation and renewal) of the epidermis, has exfoliating and brightening effects. Moreover, it is a natural antioxidant (acts synergistically with vitamin E for example). At home we can apply retinol in the form of creams or serum.
Work on levelling the lion's wrinkle can therefore be carried out in various ways and tailored to our individual needs. In addition to home care, we can also choose from many treatments available in beauty parlors. These can be performed in our salons in Warsaw and Krakow – J'adore Institute.