Do you dream of perfectly emphasized eyebrows or lips at any time of day? Or maybe you would like your look to be mesmerizing even while working out at the gym? I think you already know what we will focus on in this article? Read on and see WHY YOU KNOW ALL ABOUT PERMANENT MAKEUP! Is there a woman out there who hasn't thought about indulging herself at least once? Maybe even one of you would like to have permanent makeup done in Warsaw?
When you decide on a permanent makeup treatment, you not only invest in your appearance, but also in your everyday comfort. You won't have to spend hours in front of the mirror to enhance your beauty, because it will be highlighted around the clock.
Since you're thinking about investing in permanent makeup, you're sure to be asking yourself a lot of questions.
The beauty salon in Warsaw "J'adore Institute" has decided to answer some of them in advance.
What is the treatment?
Permanent makeup treatment is an entire process. First the linergist's task is to assess what suits you, choose the right shape, color of pigment and the best method of application. Only after determining the target effect and your approval, you can proceed to the operation, which involves the introduction of pigment under the top layer of the skin (epidermis) with a needle.
After a few weeks, when the makeup is healed, you should come in for a touch-up that will bring it to perfection.
Wondering how long the effect is visible? Are you afraid how you will look in a few years?
Do not worry! This is not a tattoo!
It is difficult to say exactly how long the effects of the treatment will be visible. Maybe you will be one of those lucky women who can admire them even for the next 3 years – and believe me there are many of them.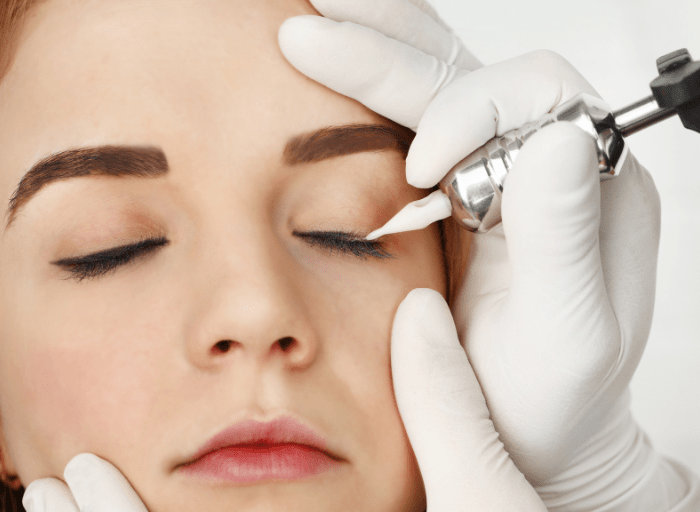 For whom is permanent makeup dedicated? Indications and contraindications.
INDICATIONS FOR PERMANENT MAINTENANCE, that is, who should decide to undergo the procedure:
– people with irregular, asymmetrical features
– Women who value their time and attractive appearance
– People for whom everyday make-up is a difficulty
– women who play sports and like to look good at the same time
– of course all clients of our beauty salon in Warsaw and Krakow "J'adore Institute" 😉
INDICATIONS FOR PERMANENT MAINTENANCE, that is, who should not decide to undergo the procedure:
– people with serious thyroid diseases
– psoriasis
– diabetes
– Persons taking blood-thinning drugs for a long period of time
– pregnant or lactating women
– Persons suffering from hemophilia
– people with fever, infection and herpes
For makeup done on the eyelid, additional contraindications are:
– false eyelashes
– glaucoma
– cataract
– recent eye surgery
– conjunctivitis
How to prepare for a procedure?
The decision has been made, the beauty salon has been chosen, the date is approaching… And now your head is attacked by dozens of questions about how to prepare? J'adore Institute will be happy to instruct you.
RECOMMENDATIONS BEFORE THE PROCEDURE:
– on the day of the procedure, you must forgive yourself your beloved coffee and other drinks containing caffeine
– 24 hours before the treatment do not take aspirin or consume alcohol
For permanent eyebrow makeup:
– 2-3 weeks before the procedure, do not perform adjustments or henna
– 1 month before the procedure do not perform any exfoliating treatments on your face
In case of permanent eyelid makeup (eyeliner):
– come to the treatment without eye make-up and without false eyelashes
– a few months before the procedure discontinue conditioners for eyelash growth and strengthening
In case of permanent lip makeup:
– if you have herpes, unfortunately you have to postpone your treatment (2 months after healing)
– make sure that your lips are properly moisturized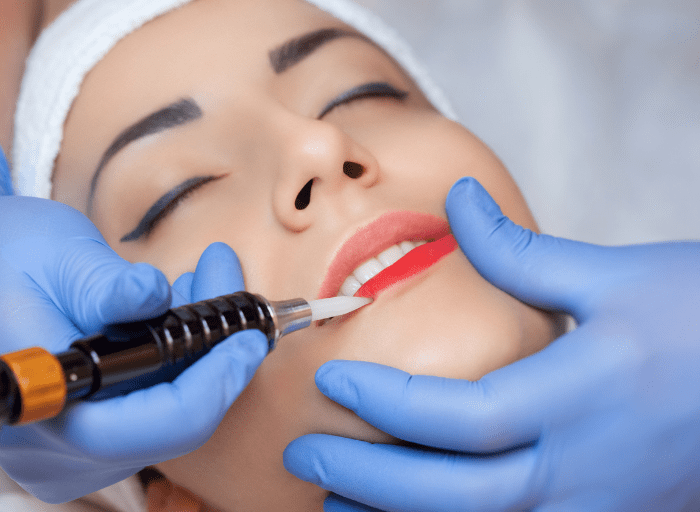 Is the procedure painful?
I would so much like to write "NO" and end with a period. Unfortunately, pain during the procedure is an individual matter, one client will say that she felt discomfort or tingling, another will talk about pain.
Any professional beauty salon will take care of your comfort during the procedure. In virtually every salon that performs permanent makeup, the treatment area is lubricated with anesthetics before the pigment is inserted under the epidermis.
It is also important that you are relaxed, as the more tense you are, the more severe the pain will be. We guarantee that our beauty salon employs linergists who are especially sensitive to the well-being of their clients, so if your form of relaxation during the makeup is listening to music or talking – no one will mind.
What to follow when deciding to have a procedure done?
First of all, choose a professional beauty salon, such as:
– Beauty salon in Warsaw "J'adore Institute"
– Beauty salon in Cracow "J'adore Institute"
We recommend online booking of our treatments!