Hand care is one of the most frequently performed treatments in beauty salons, whose frequency can be compared to visits to the hairdresser. This is not surprising, after all, it is the hands that are the calling card of every woman. The main advantage of cosmetic hand treatments is their variety, sometimes causing clients to not know which one to choose. In today's post, we will explain the differences between classic, japanese and gel manicure. We will also mention the prices, effects that you can expect and the durability of each of these treatments.
Step by step Japanese manicure
Japanese manicure is a treatment that gives a subtle, elegant effect. It consists in removing or cutting out cuticles, moisturizing and nourishing them as well as strengthening the plate. It gains a beautiful, healthy glow. The beautician performs the treatment with special pastes and powders. She rubs them into the nail plate, and this deeply nourishes it. The nails become strongly strengthened, flexible and naturally beautiful. In many cases, this procedure can be recommended as a method of plate regeneration, e.g. after poorly made or removed gel tips.
Japanese manicure – course of treatment
Immediately before the procedure, a hand bath is performed. It is aimed at softening the cuticles slightly, as they will be easier to remove afterwards. After the bath, the beautician works on peri-nail skins, cutting them or pushing away. Then he prepares his nails for the proper treatment. After consulting the client, it gives them the right shape and length to start massaging professional Japanese pastes into them, which will give them a beautiful, shiny look.
Japanese manicure – advantages:
Strengthening the nail plate (especially recommended for weak, brittle, splitting nails)
Shine gloss
Creating the effect of naturally beautiful nails
A manicure that fits every occasion
No visible regrowth
Step by step gel nails
Gel manicure can be made in many different ways, i.e. on a natural plate, form or tips. They are created with the help of a special gel, which should be cured in a UV lamp. Such manicures are above all thousands of different color options, interesting designs or innovative solutions or such as ombre on nails, very fashionable mermaid. To sum up, there are many types of gel nail designs, and the final choice depends on individual tastes.
When choosing a gel manicure, you get not only beautiful, often fancy nails and manicured cuticles, but also a strong plate, and about the length of which you decide yourself.
Gel manicure – the course of the procedure
The first step is to make a hand bath that softens the skin and disinfects it. If the client comes with painted nails of some color or covered only with a conditioner, this should be removed. Similarly, people with hybrids will need to be completely removed. Then proceed to cut or remove the cuticles and prepare the plate to apply the gel. For this purpose, you should not only level the length and shape of natural nails. First of all matte the plate and wipe with a cotton swab moistened with a cleaner. The next step is to apply a preparation that increases adhesion. Then a base that needs to be fixed in a UV lamp.
At this time, apply the form to the nails and apply a thin layer of gel on it and then the next required layers. Each of them is cured in a lamp. The last step is to clarify the shape of the nails. Then apply nourishing olives to the cuticles and massage the hands with moisturizing cream.
Gel nails – advantages:
The possibility of obtaining beautiful and long nails even for people who are not able to grow them on their own
A wide selection of decorations, colors and types of manicures
Long-lasting and strong nails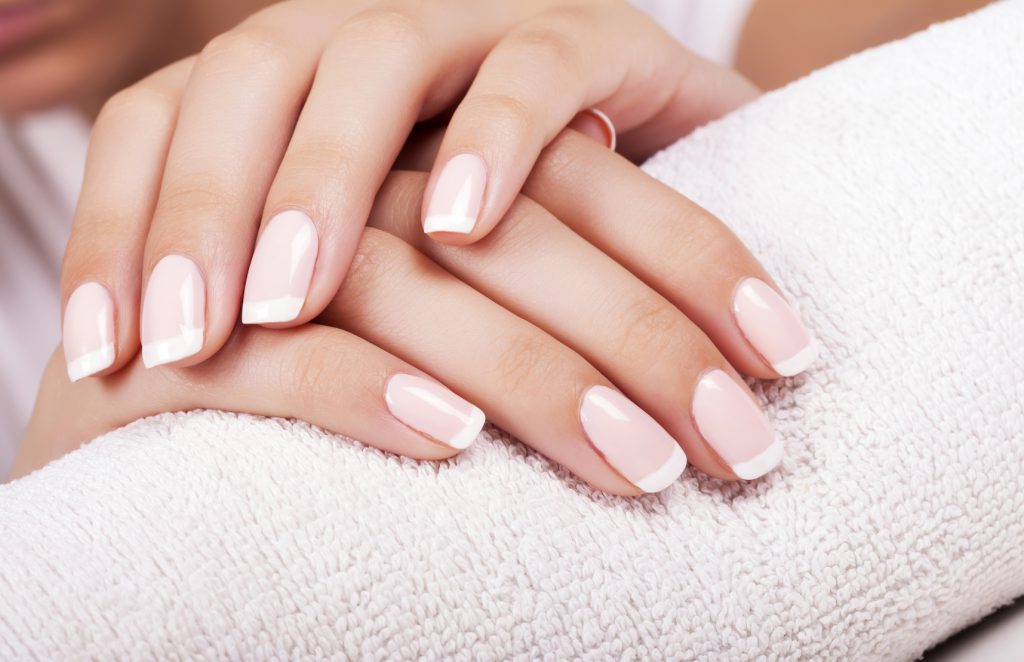 Step by step hybrid nails
Hybrid nails are a hit of the last few years, which will definitely remain fashionable for a long time. The procedure is performed almost the same as a regular classic manicure. The difference is that in beauty salons special gel varnishes are used, which must be fixed in the lamp. Despite this, the final effect is so natural that it is difficult to distinguish which nails were painted with ordinary varnish and which hybrid. There are many types of hybrid nail art. The biggest trends include the mermaid effect, baby boomer ombre, chameleon effect and cat's eye. French hybrid nails are extremely popular.
The biggest advantage of this treatment is that the perfectly applied hybrid varnish stays on nails for 2-3 weeks. After this time, regrowth occurs, and the varnish itself remains intact (without cracks).
Hybrid nails – treatment procedure
After the hand bath is done, cut or remove with a stick or chisel unsightly cuticles. The next step is to give your nails shape and alignment of their length. Customers can choose both the shape (semi-circular, squared, pointed) and the length of the nails. Of course, if possible, because this method works mainly on a natural plate – it is not extended. The next step is thoroughly matting the nails with a file and applying gel varnishes on them in stages. Each layer is cured in the lamp. At the end, the skins are covered with olive and hands are massaged with a nourishing cream.
Hybrid nails – advantages:
Greater durability than natural varnish
Nail strengthening
Tasteful and very aesthetic manicure
The ability to choose colors and decorations
It can be said that each of the above treatments is enough for about 3-4 weeks or more. The longest effects are given by the Japanese manicure. No color is used in this treatment, so the regrowths will not be visible after 3-4 weeks, and definitely later. In other cases, the procedure must be repeated after about a month, precisely because of the growth of the nail and the difference in color that will be visible. Gel manicure and Hybrid are very long-lasting treatments. The nail polish does not chip off or breaks, so the only nail defect that appears after some time is the above-mentioned regrowth.
Which manicure should you choose?
The answer to this question is not easy, because most women over time try all options, even out of curiosity. It should be emphasized that in each case, the hands look elegant and beautiful, and the color is perfect and perfectly applied. However, if you like natural nails, go for a Japanese manicure. If you want a long plate and you care about durability or very fancy solutions (e.g. 3D decorations), choose gels. In turn, if you want to look neat and be able to change color frequently (even every few days), hybrids are just for you!
Do you want to take advantage of any of the above treatments? Make an appointment at the J'adore salon. You don't have to prepare yourself. All you have to do is come and choose what color and any decorations you like. Remember that the manicure procedure can be extended with strong hand skin regeneration, i.e.paraffin that nourishes and moisturizes even the most dry skin.