A beautiful, flirtatious look… Which one of us women does not dream of it? Nowadays, in the times of constant chase, rush, and a multitude of professional and family duties, we do not always have time to spend hours in the morning in front of the mirror… Often our eyelashes are simple, rare, short, and painting them with mascara takes forever. Then our eyelash stylists come to our aid. They will choose for us a method of styling that will completely change our look and will be perfectly suited to our face and eyes. And in the morning… we will be able to sleep a little longer and enjoy a beautiful look. Find out more about  methods for eyelash extensions
Correction of the eye shape by means of eyelash styling
First of all, before we go to the salon, it is worth considering what effect we expect. The methods for eyelash lengthening are for everyone. The multitude of methods makes that with extended eyelashes both fans of naturalness and supporters of strong, expressive looku will feel great. Qualified eyelash stylist for each type of eyes individually selects the length, thickness and twist of eyelashes. Holders of regular shaped eyes are lucky. Styling their eyes is one of the simplest and each method will be suitable for them. In the case of other shapes you should focus on what you want to bring out and what to correct.
Customers with small eyes cannot wear a styling with too long eyelashes. It would be too much of a burden for the eye – rather, the methods are highly concentrated here. With large and round eyes it is worth putting on gentle lengthening and thickening of eyelashes. Holders of narrow and oblong eyes, so called "almonds" most willingly choose "cat eye" styling. It emphasizes their beautiful shape – a delicate thickening of eyelashes with alternate length is done here. For clients with convex eyes, they usually choose stylizations that thicken the eyelashes strongly, but do not lengthen them.
In the case of deeply set/falling eyelids, methods are usually used, during which the eyelashes are strongly thickened. It is also worth betting on a high twist of the eyelashes. It will make the eyes look more open and the drooping eyelid covered up. With eyes wide apart, quite short eyelashes are used in the outer corner of the eye and thicken them. In the case of narrowly spaced eyes, the main focus is on pulling eyelashes outwards.
You want to have curly lashes? Find out more about lash lift
Methods for eyelash extensions. Which to choose?
Eyelash lengthening treatment consists in sticking natural eyelashes made of various types of material to the eyelash with a special adhesive. The number of eyelashes glued depends on the selected method. It has an impact on the final effect as well as the duration of the treatment. In order to enjoy beautiful, well-groomed eyelashes, they should be supplemented by the stylist every 2-3 weeks. We currently have many methods to choose from.
The best known of them, with which everything started, is the 1:1 method. As the name suggests, during the extensions the stylist sticks one artificial eyelash to one natural one. This allows for an extremely subtle effect. Eyelashes are clearly thickened and twisted, without the artificial effect. This method resembles most eyelashes that are curled up with a curl and strongly stuck. Without a doubt, fans of naturalness will like it.
Another method, currently the most popular among clients, is the volumetric method. There are many methods for eyelash extensions! Here you can choose 2:1 and 3:1 styles, which means light volumes, and 4:1 to 8:1, which means strong volumes, otherwise called Hollywood or Russian Volume. Although they are much more expressive, they do not have to look artificial. It all depends on the thickness and length of the eyelashes that the stylist chooses. The volumetric method will undoubtedly steal the heart of fans of spectacular and expressive lashes. In order to emphasize what is most beautiful in the eyes and perfectly emphasize their shape. The stylist additionally chooses the twist of lashes in addition to their thickness and length. This makes that there are no two identical stylizations and in case of each client, the effect on the eye will be unique.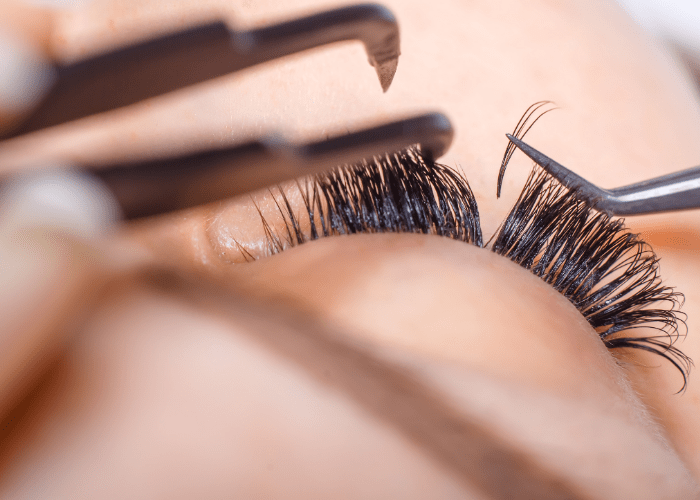 Caring for extended eyelashes
In order to enjoy beautiful, well-groomed eyelashes for a long time, one should remember about their hygiene. The most important thing is 48 hours after the treatment. During this time it is not allowed to use the sauna, swimming pool or take long and hot baths, because then the binder is bound. After this time, it is worth buying a shampoo for the eyelashes or a gentle micellar liquid. Fluids and gels based on oils can dissolve the adhesive. It is also worthwhile to comb your eyelashes with a special brush to comb out the powder, eye shadow or dust that settles during the day. This should be kept in mind as eye hygiene is extremely important and helps to avoid infections. Following the above guidelines will allow us to enjoy beautiful and well maintained eyelashes for a long time.
Deciding on different methods of eyelash extensions? You should remember that it is worth going to a salon where qualified eyelash stylists work. This will give us a guarantee that the styling will be done correctly – precisely, with attention to every detail and will be perfectly matched to our eye shape. It also guarantees us the highest quality materials and sterility. It is extremely important, especially when performing treatments within our eyes.