Hair is an element of our image that we should care for. Properly cared for, cut and styled hair are definitely an additional advantage of our appearance. Regular visits to the hair salon are certainly an important element that will help us to regenerate hair. However, treatments alone are not enough to make hair soft, healthy and shiny. That is why it is worth supplementing the hairdresser's treatments with home care. Hair regeneration should belong to your evening ritual.
The basis of any care is a gentle cleansing of accumulated sebum, dust and cosmetics residues. For daily use, use shampoos with mild surfactants. This will allow you to remove impurities from the hair and scalp without disturbing the hydrolipid coat. The shampoo should be adapted to the problems of the scalp (e.g. excessive greasiness).
However, before you clean your hair, it is worth an hour before washing your head to apply 100% natural oil. Hair regeneration in the form of the so-called Hair oiling makes the strands become shinier, smoother and more flexible over time. There is no one universal oil that will fully meet consumers' expectations. The most popular oils used in this method include coconut oil, linseed oil, wheat germ, sweet almond, sunflower, cotton seed … Just a little oil applied 1-2 a week to improve hair condition.
Hair oiling works well in the care of problematic hair requiring strong revitalization, e.g. after bleaching.
After bleaching, the recommended oils will be e.g. plum, apricot, black cumin, linseed oil. Bleached hair is often characterized by increased dryness, tendency to breakage and low elasticity. It is not uncommon for frizz, static, split ends and increased hair loss. In home care for bleached hair, systematic moisturizing and protection against adverse external factors, e.g. frequent straightening, are important. It is also a good idea to always use masks or conditioners without rinsing. If we use masks, it is important that they be emollient or emollient-protein masks. Only longer keeping the mask on your hair (up to 30 minutes) will give a regenerative effect.
It is worth using this time, e.g. for additional care or relaxing in the chair. Conditioners are used each time after washing the hair, while masks 1-2 times a week to strongly regenerate the hair. Ready-made conditioners and masks should contain moisturizing compounds, e.g. aloe vera, honey, urea, but also oils and butter (e.g. mango butter, jojoba oil) or proteins. Proteins, in addition to repairing and strengthening action, also create an additional layer on the hair and complement the defects under the cuticle.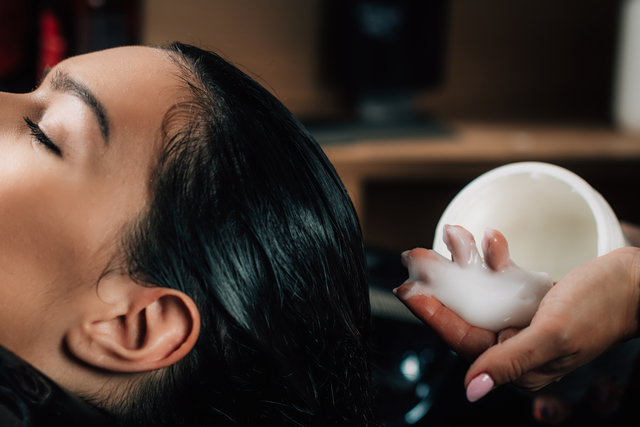 Hair after keratin straightening is another type of hair that requires special care after hairdressing. Keratin straightening consists in supplementing the deficiencies of keratin in the hair, which makes the hair simpler, shinier and smoother. Immediately after keratin hair straightening, the hairdresser tells you how to handle your hair. How long should you not wash, tie your hair or put on behind the ear? This is usually 24 hours. Until then, it is also worth giving up the gym so as not to induce sweating. How long the effect after the treatment will last on our hair depends primarily on the initial state, frequency of washing and general care.
After washing your hair, apply the conditioner for a few minutes each time, and then rinse with cool water.
Avoid cleansing shampoos, with silicones, with strong detergents (e.g. SLS, SLES), parabens, alcohols (except for fatty alcohols, e.g. cetyl alcohol). In addition, after washing, you should not rub the hair with a towel or go to sleep with your hair not dried – this may result in breakage. For washing the scalp and hair, you should choose mild, natural shampoos, products with nutritious, moisturizing ingredients and with keratin in the composition.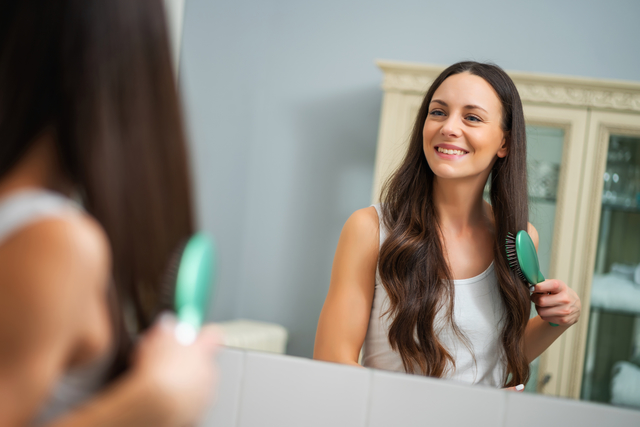 Sometimes, in addition to drugstore products, we want to use natural products in our care. The effectiveness and 100% composition of natural oils has made the above-mentioned hair oiling so popular. You can also create other cosmetics at home. As a shampoo for delicate dry hair, try combining 2 egg yolks and 10 drops of sweet almond oil and glycerin. Such shampoo is applied to wet hair, I massage for a few minutes, and then rinse. In turn, a homemade mask can be made by avocados and 1 tablespoon of honey and grape seed oil. Mix the mixture together, apply to wet hair. After 30 minutes, rinse and then wash your head with shampoo.
You can add frequent rinses to your home hair care. After washing the scalp, applying a conditioner or mask, rinse your hair with cold water.
Hair regeneration at home does not have to be expensive!
It is worth using home hair regeneration between subsequent hairdressing treatments. In conjunction with a proper diet, in this way we work complementarily and extend the effects of cabinet treatment.
Make an appointment in our beauty salon in Krakow!