Facial cleansing is a basic cosmetic treatment, necessary for proper skin care. However, with home methods you will not get rid of imperfections or get the effect of luminous, radiant skin. So it is worth to decide on a professional cleansing in the beauty salon. It will help to deal with the most common skin problems. Manual face cleansing is effective but You'll get to know about other effective treatments which are worth using.
Manual face cleansing – deep changes will be removed by hand
Without proper facial cleansing, further care treatments will be ineffective. This is the first stage of most treatments in beauty parlors. However, it is worth using professional cleansing regularly, even if you do not plan any additional treatments. Why? Pollutants, sebum and bacteria that accumulate on our skin can be difficult to remove with the help of ordinary drugstore specifics. It is also impossible to get rid of dead epidermis by yourself.
Improper facial cleansing may result in the formation of unattractive blackheads, moustaches and acne changes. As well as clogged pores cause premature skin aging. What is important is that cleansing is just as important for oily and mixed complexions as for dry or sensitive ones. It is only necessary to choose the right method, which will be taken care of by a cosmetologist. Quite controversial is the manual facial cleansing, i.e. the manual removal of blackheads. It can bring the desired effects and effectively cleanses the skin. It should be remembered, however, that the changes on the skin cannot be inflammatory. This treatment is particularly recommended for owners of oily and mixed complexion. It can be performed with open and closed blackheads. At the end of manual cleansing, the cosmetologist will apply special anti-inflammatory preparations to the skin. It will soothe the skin and make it heal quickly.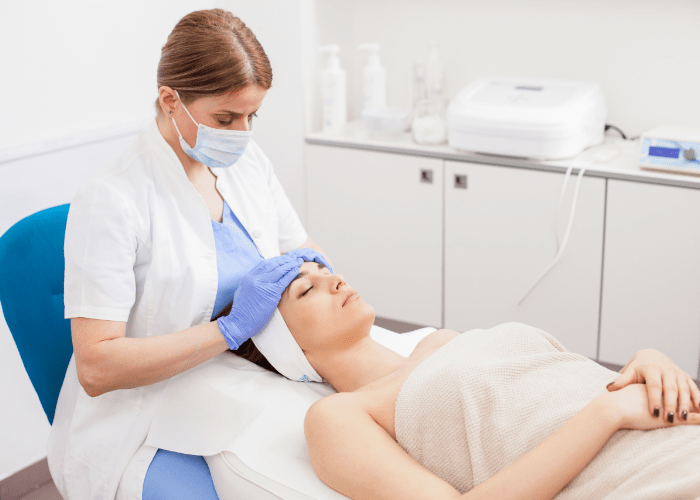 Dead epidermis will be eliminated by microdermabrasion
Persons who have oily or seborrheic skin and struggle with enlarged pores and blackheads should include in their schedule regular mechanical cleaning in the form of diamond microdermabrasion. What is it? It is a specialized device on whose head there are natural diamonds. With its help, the cosmetologist effectively exfoliates dead epidermis. It also gets rid of any impurities from the pores (the abrasive material is simultaneously sucked in by the device, so there is no need to fear dust).
Diamond microdermabrasion is an extremely strong mechanical peeling, which simultaneously stimulates the skin to produce new cells. This treatment can be performed on most ceriums, it is not recommended only in case of rosacea. Microdermabrasion is extremely effective and at the same time painless. Performed regularly, it will ensure excellent skin condition and effective removal of any imperfections – including discolouration. It is important to perform it in a professional salon, where the cosmetologist will decide on the depth of abrasion – it depends on the type of skin and its condition. It is usually recommended to perform the treatment every 2 weeks. Complete exfoliation of the dead epidermis occurs after several treatments (from 2 to 10). You can add microdermabrasion to manual face cleansing for better results!
Manual face cleansing, cavitation or chemical peeling?
Facial cleansing can be gentle and pleasant and at the same time effective. This is because such is the cavitation peeling, i.e. removing dead epidermis with the use of ultrasounds. Cavitation is the most universal method of professional cleansing. It can be used even in people with thin and delicate skin. This type of peeling is often used before advanced cosmetic treatments. Thanks to it the skin better absorbs all preparations. Of course, it can also be an independent treatment that not only cleanses the pores deeply, but also reduces the amount of blackheads and discolouration. What else? It improves water management, and even oxygenates the skin and stimulates blood circulation. As a result, the skin will become firm, smooth and fresh, and visibly smoothed. The treatment itself is not painful, and you can feel a gentle tingling sensation during the treatment.
The principle of cavitation peeling is simple – moisturized skin is subjected to ultrasounds with a special device. Under the influence of pressure produced dead skin is removed very quickly.
If, in addition to cleansing your face, you would also like to eliminate wrinkles and regenerate and nourish it, it is worth using chemical peels. They are made with the use of special preparations based on chemical agents. Highly technologically advanced and effective, for example MediDerma, of course with a properly selected concentration. As a result of their application on the skin, they penetrate the skin. Remodeling of collagen and elastin, as well as renewing the entire epidermis starts. By performing a series of treatments, you can expect your skin to be like new! And in addition, the first symptoms of aging will disappear.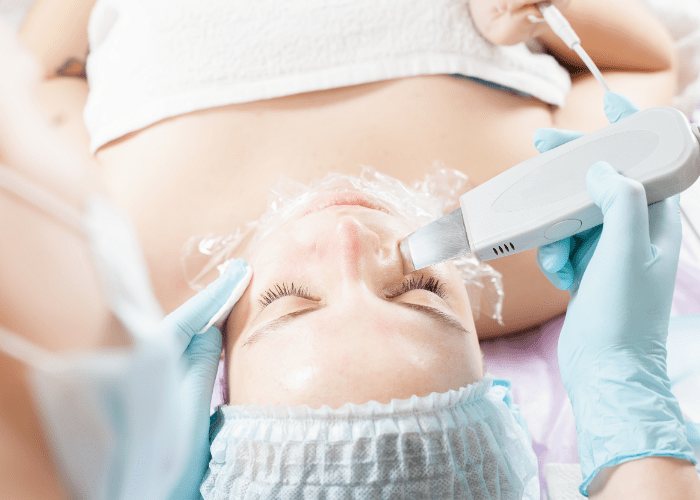 Laser – the latest discovery
Cosmetology of the XXI century is largely based on the latest technological achievements. And it is no different in the case of face cleansing, which can be done with the help of … laser. If you expect something more from the treatment or you are looking for an alternative to chemical peeling – it is an ideal choice. A modern device, which is the iPixel fractional laser, thoroughly penetrates the entire epidermis and dermis.
The light is applied in a precise way. It guarantees the safety of the treatment and significantly accelerates skin healing. iPixel differs from other laser peelings in that instead of one beam, dozens of microbeams are sent. The improvement of the skin's appearance is most often after just one treatment. The visibility of pores decreases, discoloration brightens and improves skin tone.
Laser peeling can be performed once or if necessary – carry out a whole series of treatments. The intervals between them must be about one month. iPixel will make your skin regain its shine, be radiant and uniform as never before. Facial cleansing is a highly professional treatment. Choose a place that has a whole range of treatments of this type and experienced cosmetologists. In Krakow and Warsaw it is undoubtedly J'adore Institute.
Make a reservation for manual face cleansing in our beauty salon in Krakow.