Pedicure is a procedure that many forget to perform. After all, the feet are less visible than the hands (manicure is no longer so often forgotten), especially in the autumn-winter season. If you already decide on this kind of treatment, it is often at home, without even thinking about going to a beauty salon. Both attitudes are wrong. Pedicure is not only nicely painted nails (which we can do quite well ourselves). It is a comprehensive care of the beauty of the feet. It is much better handled by a man after the trade. Below you will find information about what you can expect from this type of treatment. Especially when deciding on such a treatment in a cosmetic salon.
What is pedicure?
Pedicure is a care treatment that improves the aesthetics and comfort of your feet. During the treatment, among other things, the keratinized epidermis is peeled off. Nail plate is shortened and unsightly cuticles around the nails are removed. This treatment should be performed systematically. Especially if we are struggling with problems of keratinization of feet, cracked heels or overly thickened nails. Regularly performed pedicure will remedy these problems. It is a guarantee of healthy and aesthetically pleasing feet. It is worth remembering that pedicure is comfortable that to perform the treatment again you do not have to wait for some recommended interval.
You are bored with the color of the varnish or your feet are in a bad condition and require intensive care? It is worth to remember that you can adjust the frequency and number of visits to the beauty salon. A significant improvement in the insight of the feet – if they are not in the best condition – can be observed after just a few sessions. You should also not forget that pedicure is a procedure not only for women, but also for men. A modern man is a well maintained (including healthy) man. With this in mind, gentlemen should feel encouraged to visit the beauty salon.

Pedicure treatment – types
Pedicure can be done in several ways. Here are the methods in which we can choose. The methods of performing the procedure are worth changing so that the foot care is varied. It is worth adding foot regeneration to the treatment to enjoy even softer skin.
1. classic pedicure
Although it is a "classic" treatment and the name may suggest that it is a version of pedicure somehow truncated, nothing could be more wrong. During this treatment we can count on a number of practices. Used regularly and consistently, they can significantly improve the appearance and condition of the feet. During classical pedicure there are subsequent stages: washing the polish (if the nails of the feet were previously painted), foot bath (often with the addition of salt) allowing to soften the epidermis, shortening and filing the nails (the shape can be adjusted to your own taste in an interview with a beautician), pushing away and removing the cuticles, making a foot scrub, massaging the cream, degreasing the nail plate and its painting and applying polish with a hardener to extend durability.
It is worth remembering that the offer of this type may vary slightly depending on the beauty salon. What is worth paying special attention to when choosing this? It is the sterility of the workplace where the treatment is performed and the quality of cosmetics used during the treatment.
2. Japanese Pedicure
It is, as the name suggests, a method originating from Japan, which Japanese women have been faithful to for centuries. This treatment is especially recommended for people with damaged and brittle nails and dry cuticles around the nail plate. It has a strong regenerating and nourishing effect on feet. Eliminating splitting of nails, tendency to crumble and susceptibility to breakage. What is the secret of such action? Pedicure of this kind is significantly different from classic pedicure.  No base or varnish is applied to the nail. Special paste rich in Japanese Sea silica, keratin and vitamins A and E. During the treatment, after the application of the paste, a special powder is also applied to the nails. It is lightly colored the nails, giving a healthy looking, slightly pink color.
Another feature of this type of pedicure is that no metal tools are used to cut the cuticles. The nail is not covered with colored polish, but only the mentioned powder. It gives the nail plate a healthy look. It is worth emphasizing that this kind of treatment is especially recommended for people who have worn hybrids for a long time. Repeated up to five times this treatment will permanently improve the condition of damaged nails. This method is not so much harmful as the excess use of any method. So it is sometimes worth to break away from the routine, apply something else and give your nails a little rest.
3. hybrid pedicure
This kind of treatment is preceded by an introduction in the form of a classic pedicure. The distinguishing feature of this type of pedicure among other types of treatment is the durability of the color polish. Treatment guarantees durability of the color and a particularly refined, almost impeccable look of the work done. The "coloring" of the nail in this case consists in the use of polish in the form of gel. It is fixed by a specially prepared lamp. Color palette of this type of lacquer is extremely wide and constantly expanding, so everyone will find something for themselves. It is also worth to bear in mind that the formulas of lacquers are constantly improving. The claim that this method is particularly unhealthy or dangerous for feet and nails is exaggerated.
Nowadays, hybrid pedicure nail polishes create an extremely delicate coating on the nails. Air and moisture, necessary to maintain its healthy appearance, can easily enter the plate. It is worth to keep moderation in the use of this type of method, however, it is not worth to be overly afraid of it.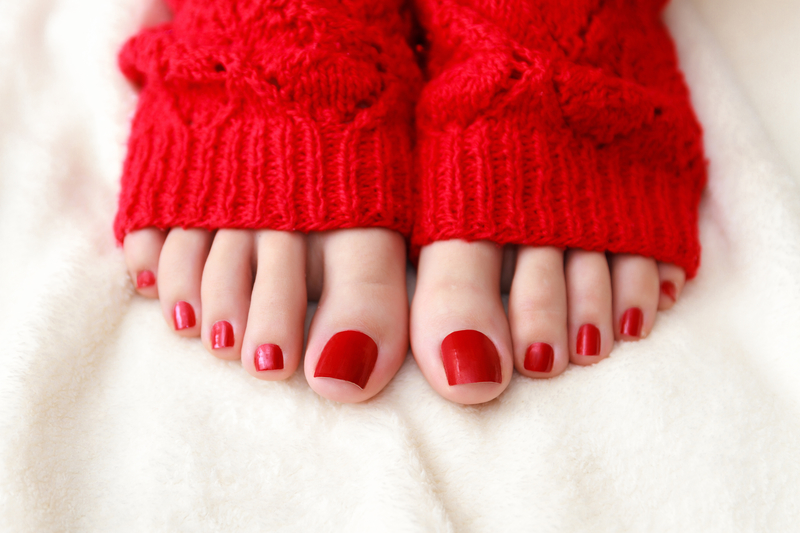 Pedicure – how to fix the effects of the treatment?
In the case of hybrid and Japanese pedicure we can put on shoes after the treatment. Classical pedicure requires more patience. It is recommended to wait about 20 minutes after care and styling, so that they are durable.
To extend the beauty of your feet after this treatment it is worth buying a foot cream. A full body lotion – if you buy one – will not be able to take care of your feet sufficiently. You can also get acquainted with a wide range of foot cosmetics – conditioners, specialist creams – we recommend Podopharm, for example.
Pedicure does not have to be an unpleasant necessity. It does not have to be a boring procedure. Let's be sure that after this kind of treatment we will walk even more confidently and happily!
Professional manicure and pedicure performance is offered by J'adore Institute, whose salons are located in Krakow and Warsaw. Make a reservation in our beauty salon in Krakow