Who doesn't have a memory from their youth that brings a blush of shame to their face? It would probably be hard to find such a person. Unfortunately, it is not always just a blush. Tattoos can be souvenirs that you want to forget about as soon as possible. But unfortunately they are supposed to accompany us for the rest of our lives. Fortunately, they no longer have to. Check out the most effective methods! Get rid of the unwanted tattoo!
Unconsidered decision or maybe a bad professional?
Tattoos are real works of art nowadays. Nobody is surprised anymore by whole legs, arms – and even face – covered with colorful, unwashable paintings. In the past, tattoos were rather associated with prison subcultures or poorly thought-out decisions of our youth. Poor quality drawings in combination with bad ink (which turns blue after some time). Are not aesthetically pleasing souvenirs. Which we often try to hide at all costs. And, as long as they are in an inconspicuous place, there may be no problem with that.

However, if it is a dubious ornament of the arm or calf. In summer or spring it is difficult to cover it up. Unless you wear long shirts even in hot weather. Currently made tattoos also may not be of the best quality. If we have chosen even a poor tattoo artist or the inscription made on our body has become outdated (such as the name of an ex-lover).
What to do about it? It's time to stop being ashamed and explaining to everyone about the painting on your body. If the tattoo was in your opinion a bad choice or you just don't like it anymore . You don't have to wear it for the rest of your life. It is enough to decide for one of the specialist treatments that will effectively get rid of the unwanted souvenir. Get rid of the tattoo thanks to laser treatments!
Laser that removes the problem once and for all
Until recently, complete removal of a tattoo or permanent makeup was not so much impossible. As it was associated with tremendous pain and the risk of severe skin damage and side effects. Fortunately, the latest technological advances allow for safe and effective removal of permanent pigments from the skin. The pain of the procedure is significantly reduced. An absolute hit in the field of tattoo removal is a non-ablative fractional laser Alma Harmony XL PRO with the head Nd:Yag QS 1064/534 nm. What is behind this complicated name? The beam of this laser does not damage the skin. And its action is based on the laser breaking tattoo dye molecules into smaller ones.
The body then removes them from itself with the help of phagocytosis – thanks to a nanosecond pulse. Dark inks are dealt with by the 1064 nm beam and lighter ones (yellow, red, orange) are dealt with by the 534 nm beam. The Alma Harmony laser can be used even on highly sensitive areas. Before each treatment the skin is anesthetized with a special cream. The comfort is much greater and the pain much less. Effective removal of a tattoo requires a series of treatments. Usually from 6 to 10 (depending on the skin and intensity of pigments) every 6-8 weeks. During this time, the body gradually absorbs the broken down pigment particles. Which in turn translates into brightening of the tattoo.It is a safe and minimally invasive method. Does not leave any scars on the skin.
Get rid of a tattoo – choose the most effective method
When deciding on tattoo removal you should first of all take into account your safety and whether the procedure will be effective. So it is worth to find out which methods available on the market work best. Apart from the discussed Alma Harmony XL PRO, you should definitely think about removing tattoos with the use of picosecond laser: Picosure. What it is based on. The technology used in the picosecond laser allows for an even shorter pulse sending time (it takes what is called a picosecond). Exactly 100 times faster than the nanosecond (used in Qswitch lasers). The faster  pulse, the more energy is released when it is triggered. Which means even more powerful disruption of the pigment particles.
Laser's contact with the skin is short enough that it does not overheat the skin. The picosecond laser can easily handle any pigment, and it usually takes 3 to 6 treatments performed every 6 weeks or so to completely tattoo a tattoo. After the tattoo is removed only a little bit lighter stain remains on the skin but after some time it melts with natural skin pigment. However, it is often worth performing the Qswitch procedure first. The Picosecond laser, due to its enormous power, can be too aggressive for many people.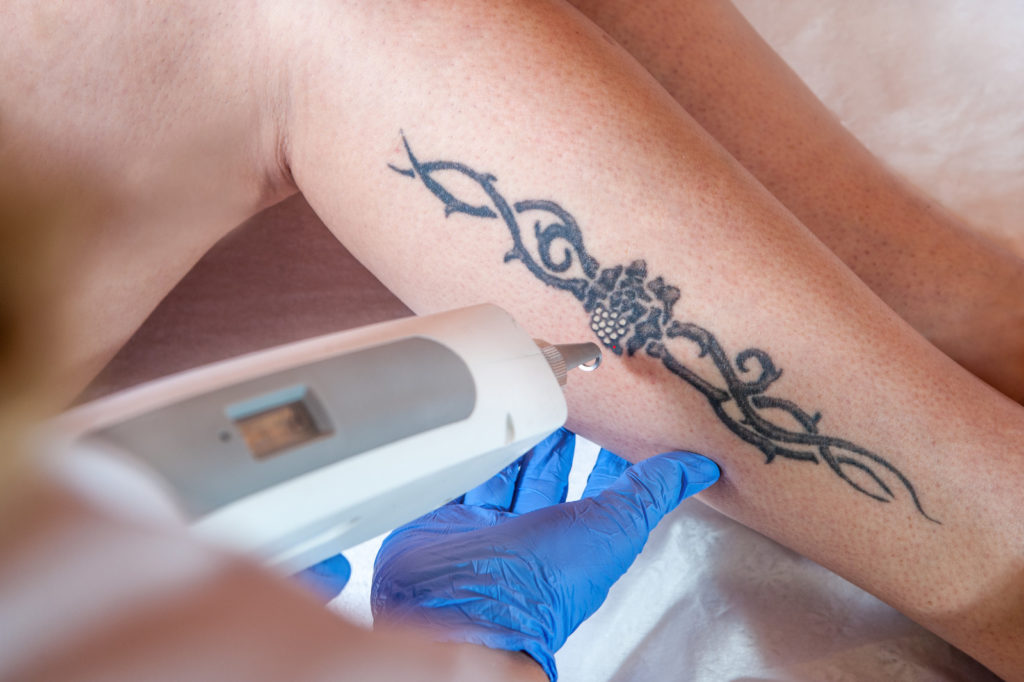 Next time, think twice
Which tattoo removal method is best for you? It is best to make an appointment for a consultation at a professional studio which provides such services using professional, top class equipment. In Cracow and Warsaw you can effectively remove a tattoo in J'adore Instytute. Specialists working there will professionally advise you on the appropriate method. Of course you have to remember that this type of procedure must not be carried out during pregnancy and lactation. As well as you have to inform the person carrying out the procedure about your health condition and any ailments. And if there are no contraindications, there is no point in postponing this decision indefinitely. It is best to get rid of the unwanted souvenir quickly and next time think about the tattoo at least twice.
Make an appointment using the online form