Powder henna, lamination, eyebrow geometry or permanent makeup – what does each of these styles consist of?
What powder henna is ? -Until recently, eyebrow styling was not very popular – most women adjusted their eyebrows with tweezers on their own or at a beautician, optionally they also emphasized their eyebrows with classic henna. However, the situation has changed – at the moment on the Polish market appeared a lot of great products for styling eyebrows. As well as taking care of them to grow faster and thicker. In the past eyebrows were neglected in makeup, today. Every woman who cares about her beauty knows that beautifully emphasized eyebrows are a frame for the eye. Properly styled eyebrows can not only emphasize our beauty, but also rejuvenate the look. What actually consists in lamination, powder henna, dye or permanent make-up of the eyebrows?
Eyebrow styling methods – classic henna versus new methods
The most known and popular method of styling eyebrows until recently was classic henna. Usually available in several basic colors it allowed to darken hairs and tint the skin. Unfortunately the effect was not always satisfactory – the eyebrows were often too dark or fell into red shades. So a great alternative appeared on the market – powdered henna.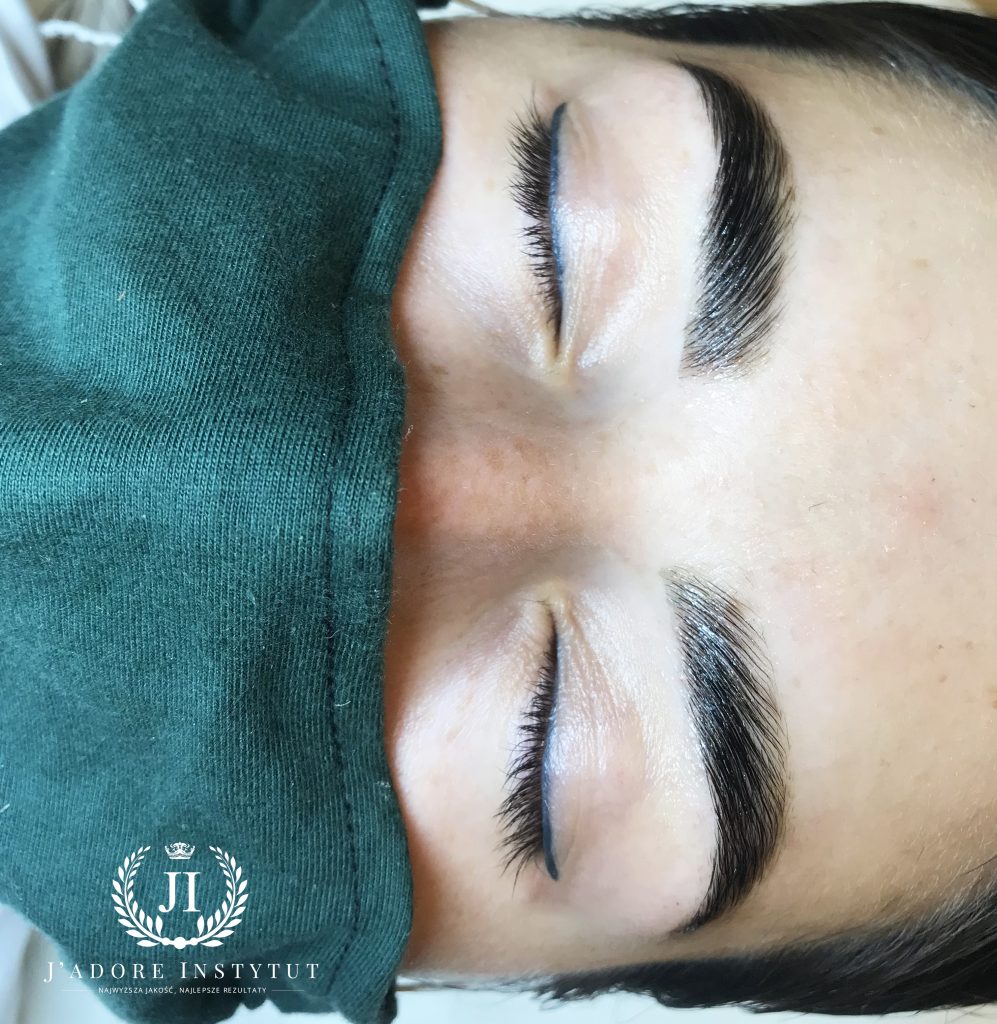 What powder henna is?
Brow Henna lasts about two weeks longer than classic henna. Moreover, you can choose from many shades which can be mixed with each other. Thanks to such mixtures it is possible to create an ideal shade for each hair color or complexion. We no longer have to worry about our eyebrows being too dark or red. Thanks to the unique blends created by a professional eyebrow stylist.  We can get shades of light, medium, dark, cool or warm to suit every type of beauty.
What is important, powder henna is also a conditioning treatment, which strengthens and nourishes the eyebrows.
Apart from powder henna, gel henna is now extremely popular, which also allows for darkening of hair and skin. Depending on the manufacturer of the henna. We can get different effects – very subtle, consisting only in highlighting the eyebrow hairs, through more powerful – that is, staining of hairs and skin. To achieve the desired effect you can also use a mixed form – a combination of powder and gel henna. You already know what powder henna for eyebrows is – learn about lamination.
Eyebrow lamination – a way to style unruly hairs
Eyebrow lamination is a procedure, which is especially popular with owners of unruly eyebrows, which do not want to be styled. Laminating eyebrows provides natural effect and ideal shape of the eyebrow arch. Thanks to the preparations applied during eyebrow laminating. The eyebrows can be shaped in any way so as to improve their direction. Eyebrows styled in this way look as if they were combed with gel – they are all in their place. In addition, this treatment, due to keratin and vegetable oils contained in the preparations, nourishes the hair, improves their condition and provides them with a subtle glow. The effect lasts from 1 to 1.5 months.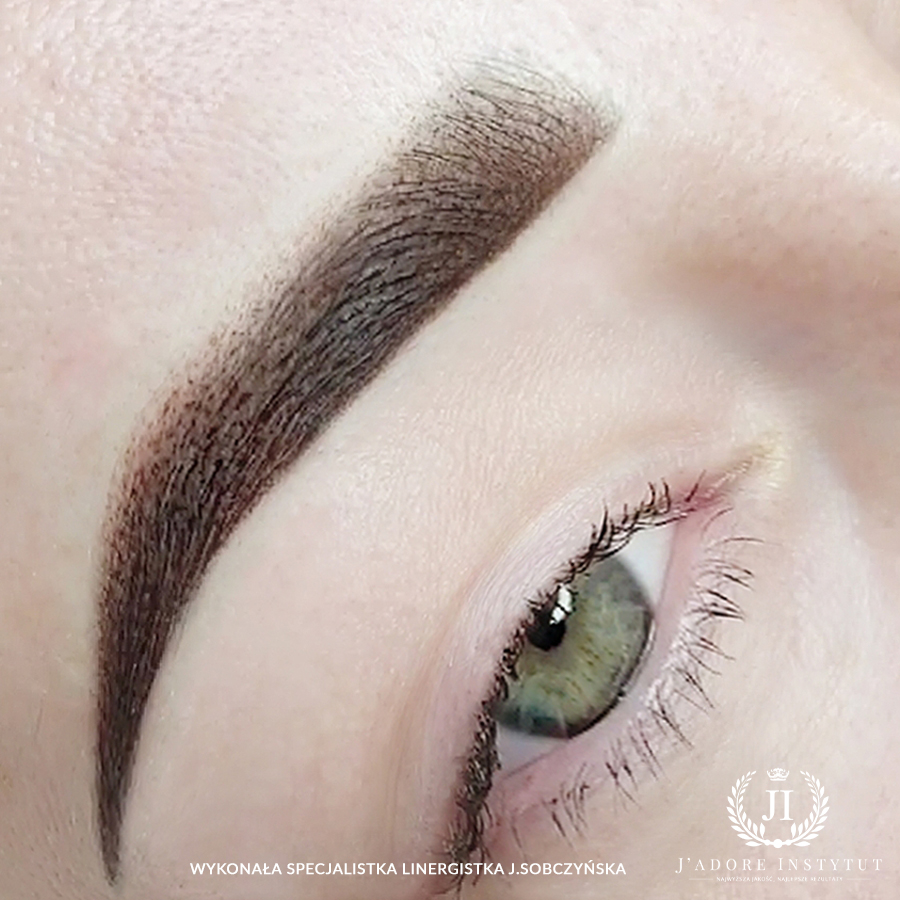 Eyebrows geometry – an indispensable element of professional styling
While the term "geometry" may not be associated with eyebrows in any way, nothing could be further from the truth. A professional eyebrow stylist, during almost every eyebrow styling procedure, first performs eyebrow geometry. Eyebrow geometry is a procedure that involves drawing a line against the points of the face to create the perfect shape. Customized to the client's face. This procedure is performed using special equipment like a caliper or geometry floss. Eyebrow geometry makes it possible to even out asymmetries of the eyebrow arches and create perfect, even eyebrows that match the face.
Permanent makeup – a well-known method that is still very popular
The aforementioned methods of eyebrow styling are temporary and prove perfect for clients whose eyebrows only need "polishing". They are perfect for masking areas where less hair grows, improving their shape, nourishing them. Some, however, prefer permanent methods, which will allow them to enjoy perfect eyebrows for a long time.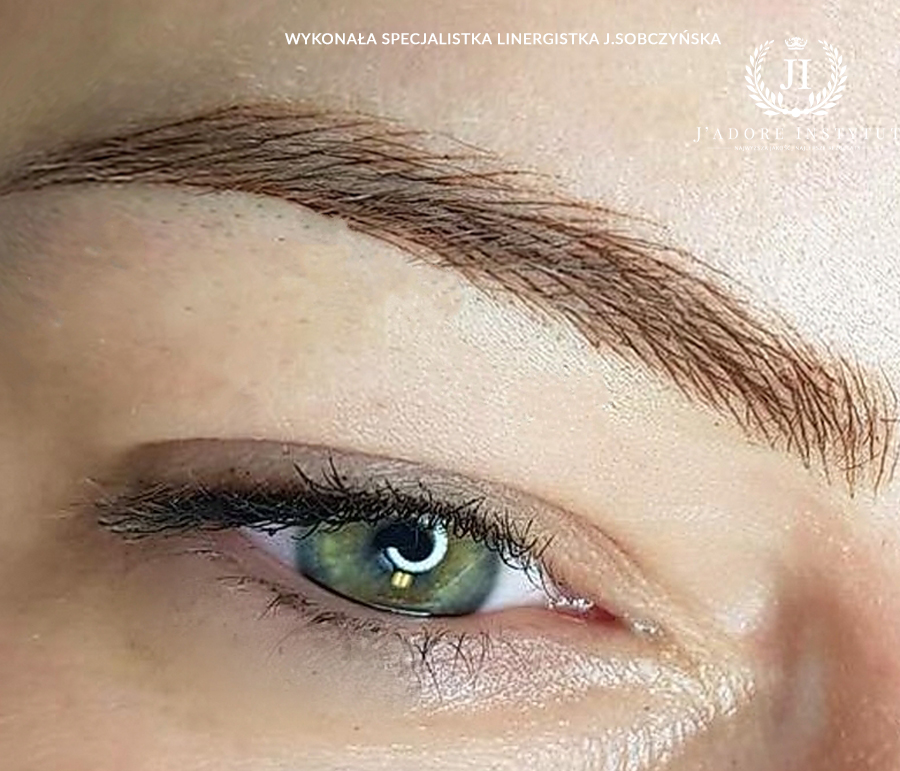 Such a method is the well-known permanent makeup. It has become extremely popular among owners of very weak, delicate eyebrows. It is chosen by women who have almost invisible, very thinning eyebrows. Also popular among women who like to enjoy expressive eyebrows. This method involves injecting a pigment under the skin (similar to getting a tattoo). As a result, the arches are marked in a perfect way. They are not afraid of makeup remover, heat or rain. The biggest advantage of this method is durability. Eyebrows made by a qualified linergist should last about 2 years. Afterwards, it is enough to make an appointment for their re-pigmentation and again you can enjoy beautiful eyebrows.
Eyebrow Conditioners and Moisturizers
Apart from styling your eyebrows it is also worth remembering about their proper care. Currently on the market we can find many preparations that will help us take care of perfect, beautiful, thick eyebrows. Depending on our needs and how our eyebrows look like, we can invest in special eyebrow conditioners . Which in addition to nourishing will also stimulate hair growth. It is also worth paying attention to eyebrow oils, among them the cheapest and best known method of eyebrow and eyelash care. Our grandmothers already knew it – applying castor oil at night. With proper care for your eyebrows, any styling treatments will last on them much longer.
It is worth remembering that when deciding on any method of eyebrow styling – be it powder henna, lamination or permanent makeup – you should sign up with a qualified stylist/linerist.  A specialist who has the right knowledge and products to perform the procedure. Only this will give us a guarantee that the treatment will be done correctly and we will be able to enjoy beautiful, well-kept eyebrows that will attract attention.
We invite you to our beauty salon in the center of Warsaw.