Epidemic and dilated vessels – in this entry you will learn how to deal with them. Erasse is the redness of the skin surface, which is a sign of dermatological problems. It is the result of local irritation or prolonged inflammation and skin infection. Erythema often accompanies other problems, but can also be a disease entity worth treating. In some cases, however, erythema can disappear spontaneously as it appeared. Dilated capillaries don't have to be a problem!
Epidemia and dilated capillaries – the causes of erythema
The most common cause of erythema is thin blood vessels, which expand rapidly through increased blood flow. Erythema is often the result of so-called congestion. The skin exposed excessively to sunlight may be more vulnerable to erythema. Another reason may be the so-called histamine, or more precisely a substance that is released in the body during allergic problems.
There are many types of erythema, but each has similar skin effects. These are characteristic bluish red spots, which have a clearly marked shape. They are accompanied by elevated body temperature, but above all the place where it occurs.
The erythema occurs not only during exposure of the skin to sunlight, but also during physical exercise or staying for a long time in a stuffy room. Many customers also complain about it during the consumption of high-powered drinks, and most often wine. They cause a rise in body temperature and increase our blood pressure and flow.
Dilated vessels are also a problem that occurs with erythema, but also individually.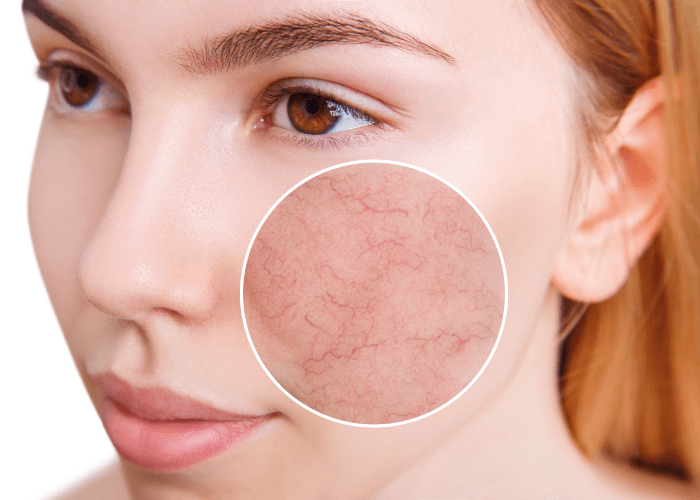 How to deal with erythema and dilated capillaries?
Among the treatments that can help in the fight against these changes is the laser vessel closure – ALMA HARMONY XL PRO with a special DYE-VL head.
This treatment consists in exposing the skin to laser light, which has an adapted wavelength. A change in the state of concentration of the changes causes their closure. Regularity is recommended, although after the first treatment you can see the first effects. For long-term and ensuring customer satisfaction we offer series of 2 to 4 treatments at intervals of 2/3 weeks between batches.
Laser treatment may be associated with painful laser shots, but the whole process is supported by cooling technology. This makes the course of such service much more comfortable. After the treatment, the skin is gently reddened, but this effect is impossible to ignore. However, every interference in our skin forces it to regenerate quickly.
Treatments are performed every about 4-5 weeks. In addition to laser treatments, removal of capillaries should be supported by other treatments. It will allow us to deal with erythema or just dilated vessels. Such treatments include peeling with azaleic acid, which is known in the world of cosmetology and aesthetic medicine. It is a substance that helps in the fight against imperfections and lesions on the basis of disease.
Azaleic acid has mainly anti-inflammatory and antibacterial effects. It can be found in various cosmetics, in which it is an active ingredient. The acid itself and peeling with it helps to fight acne problems and the resulting discoloration. This treatment is very popular. It helps to normalize the processes that take place in the skin. Excessive keratosis of the epidermis or excessive production of sebum are also problems faced by customers. In these cases azaleic acid will also find its application.
Erythema and dilated vessels – cosmetics
If we decide to use cosmetics for everyday care on our own. It contain azaleic acid, it is important to remember about the right choice of cosmetics that contribute to our entire care routine. First of all, these should be non-comedogenic cosmetics, which could cause clogged pores and other skin problems. You should also get rid of products based on alcohol and strong active substances. Azaleic acid alone will prove to be a complement to the care and will not interfere with the skin, which is subjected to daily make-up.
Important information is that the acid can be used all year round. It does not cause undesired effects after exposure of our skin to the sun. However, it is recommended to apply such treatments in the autumn or winter to minimize the risk of over-exposure to strong sun. It is not advisable regardless of the condition of the skin and its condition.
It is worth noting that pregnancy is not a contraindication to use azaleic acid treatment. Moreover, there is no need to be afraid of side effects after the treatment. It may be only redness, greater sensitivity of the treated areas or temporary dryness. The skin must get used to the new condition and with each series of such effects there is less. Of course it is not said that in every case they must occur.
We invite you to familiarize yourself with the offer of our Institute, where you will find not only the treatments we perform with the above mentioned laser, but also acid peelings.