There is no doubt that hands are our business card. For women, they are even an attribute that affects external attractiveness. Every neat lady strives for a perfect nail look. This include thanks to them we can express our style
and aesthetic appearance. Nails often complement everyday stylization and a decorative element. Their shape, color or decorations can be chosen freely, depending on the circumstances or chosen wardrobe. What's more, even women whose nature has not given a beautiful, natural nail plate can camouflage this type of imperfections through manicure.
Template nail extension
Ladies who have short and brittle nails can opt for gel nails. Thanks to them, already in one meeting, hands can regain their perfect appearance, and the nail plate will be perfectly long and hard. For this to happen, it is worth choosing a beauty salon where specialists will deal with nail extension in a professional manner. Are you wondering what the step by step nail extension procedure looks like? Learn about the stages of nail extension on the template:
– developing a natural nail plate – cuticles should be removed and the nail plate matted,
– choosing and developing a template – the template is not only to meet individual needs in terms of nail length, but must also be perfectly matched to the plate,
– gel application – the gel should be applied in a thin layer and aligned with the template,
– nails go under a curing lamp. After modeling the shape of the nail and applying another layer of gel, the nails go under the lamp again. Then you can remove the template and apply a shine gel on the nail. This layer also has to be cured under the lamp,
– nail decoration – new gel nails can be covered with hybrid varnish, patterns / decorations – the treatment will finish the final fixing of all layers.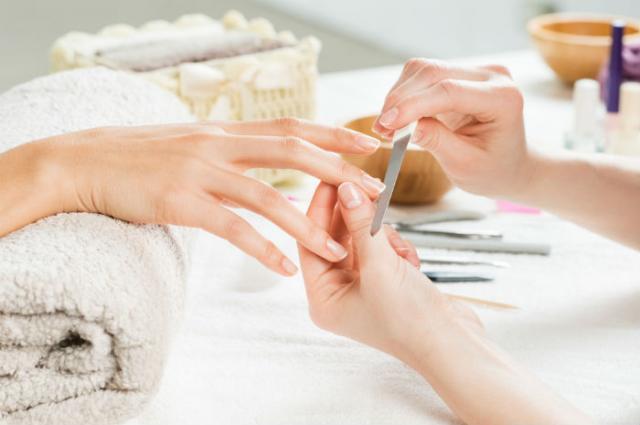 Broken nail – reconstruction
Interestingly, the technique using gel can be used to extend all nails or in practice only individual reconstruction. This method works great to extend a broken nail that is significantly different in length from the others. Thanks to this, you don't have to wait for the natural nail to grow back.
The technique of extending a broken nail is exactly the same as for gel nails of all nails. It is important that the template matches the shape and length relative to the others.
Gel manicure with a hybrid
If you are still not able to answer the question whether it is worth using a gel manicure – it is worth considering it if you are struggling with short and brittle nails. The best option will be a gel manicure with a hybrid. Thanks to this, you can count on perfectly long nails painted with hardened varnish. This will ensure perfect nails for at least a few weeks.
Today, we are able to efficiently combine gel manicure with hybrid varnishes. This gives the extremely natural effect of perfect nails. There is no chance of drawing a tile or chipping paint. Their design can be changed every few weeks, enjoying the flawless appearance of your hands.
The price of a gel manicure in combination with a hybrid is not excessive. Definitely worth the perfect hands and the time that you save on self-care for your nails. Much depends on the means used (it is worth focusing on the best quality) and nail decorations. It is worth remembering that with this type of technique you can extend all nails, even the shortest and single ones, which, for example, have broken. It is a method thanks to which your nails will always be in perfect condition.