When the first signs of ageing appear on our skin, we usually take them in peace. We take care of our skin in the hope that wrinkles will not get worse quickly. Unfortunately, it sometimes happens that they turn into visible and disfiguring wrinkles that give us years. What can we do in such a situation? An effective solution is the strong skin rejuvenation treatments that we carry out in our institute. Mesotherapy treatment, laser therapy are modern and beloved methods. Why? They give satisfactory results, but are also safe for the health of your skin. Get to know them better and find out why it is worth to choose them.
The iPixel Alma Harmony XL fractionation treatment with platelet rich plasma
One of the solutions that provides really strong skin rejuvenation is the iPixel fractionation treatment combined with the injection of platelet rich plasma. In our institute this is done by Dr. Lidia Majewska, who is a high class specialist. Thanks to that our clients can be sure that the treatment will be carried out in a precise and safe way. Its effects will meet even the highest expectations. While working in our institute we use the most modern laser equipment. This is why the treatment is so effective. What is more, both fractionation and injection of plasma takes place during one visit to our institute, thanks to which it is a time saving solution.
For whom?
The iPixel Alma Harmony XL fractionation treatment is a perfect way to get rid of scars, discoloration, acne lesions. Above all, however, it is a proposal for people whose skin has visible wrinkles, has lost its firmness and tension. It is a modern and effective solution that can cope with even very deep furrows. This treatment is therefore a proposal for elderly ladies who want to strongly rejuvenate and regenerate their skin in an effective yet very safe way. Contraindications to perform this treatment are only active infections and having a pacemaker.
Is it safe?
Many women who decide to take advantage of the fractionation treatment are worried about whether it is safe. After all, the treatment causes micro-damage of the epidermis and dermis. However, we want to calm our clients down. Although during the procedure an unpleasant burning may occur and the skin may be slightly reddened, there is really no reason to worry. Full reconstruction of the epidermis takes place as early as 48 to 96 hours after the treatment. This means that it is much shorter regeneration time than in case of using traditional fractional lasers.
How does the fractionation treatment look like?
The fractionation treatment takes about 40 minutes. The skin subjected to the treatment is disinfected and anesthetized to reduce the risk of unpleasant sensations. Using a modern device emitting laser beams, experienced specialists from our institute lead to the creation of point micro-damage – pixels. Between them there is healthy, intact tissue, which makes the skin heal very quickly after treatment.
Many of our clients are wondering for what purpose we also add to the fractionation treatment by injecting the skin with platelet rich plasma. Meanwhile, the answer to this question is very simple. Thanks to this the effects are even more visible and last longer. Platelet rich plasma is a natural product obtained from the patient's blood. Thanks to that it does not cause any allergic changes and does not cause any allergic reactions. At the same time it has a salutary effect on the condition of the skin. It promotes its revitalization and reconstruction of collagen fibers. Moreover, it perfectly improves the blood supply to the skin and contributes to smoothing out wrinkles and furrows.
The combination of these two modern treatments is a high effectiveness, which is able to meet the expectations of our customers. It is also worth adding that this combination is completely safe for the health and condition of the skin.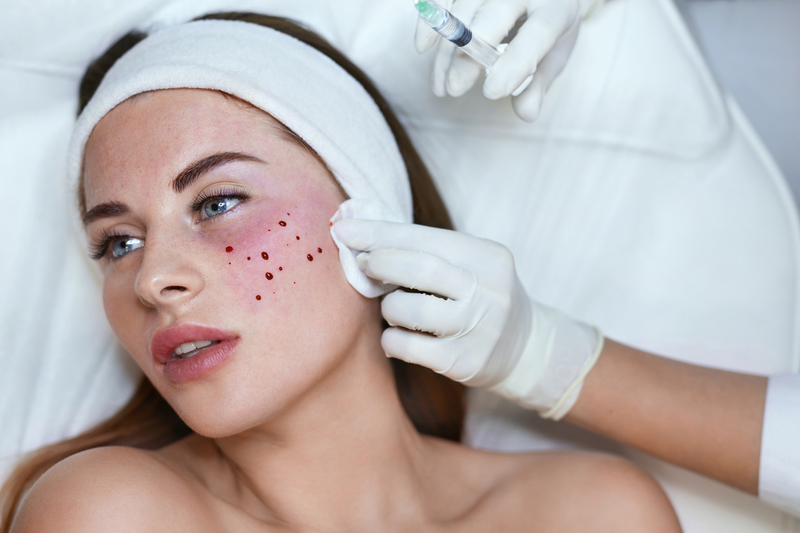 Do you have questions about treatments? Mesotherapy treatment is one of the most popular treatments in our salon. Our specialists will be happy to provide all the answers during a free consultation! Make a reservation in our beauty salon in Krakow!